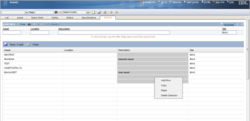 MAXLS offers a fully embedded spreadsheet interface for IBM Maximo applications.
Montreal, Quebec (PRWEB) October 05, 2012
iMaxeam, a registered partner of IBM®, now offers its popular data management add-on product, MAXLS™, for IBM® Maximo® versions 6, 7.1, and now, 7.5. MAXLS™ is the leading add-on software that fully integrates with and embeds into asset management software by IBM® Maximo®. MAXLS™ can be accessed as a tab within any application in Maximo® to reveal a spreadsheet interface. The MAXLS™ tab spreadsheet mimics Excel® functions and allows for direct editing of existing or new multiple records or copy and paste function directly from Excel®.
MAXLS™ offers super-users and end-users the ability to easily manage their asset data without the need to access an inefficient outside application or use complicated menu/dialog box functions. Further, MAXLS™ users can work on their business data in Excel® and then use the copy & paste function for mass data import to Maximo® from Excel. Modified data is clearly identified for quick and easy review. Data simulation, syntax checking, and business rules validation ensure data integrity and security. MAXLS™ is a huge time saver for the Maximo® end-user.
About iMaxeam:
iMaxeam, a North American company with operations worldwide, provides products, training, and customization for IBM Tivoli Maximo EAM software. iMaxeam add-on products enhance and simplify the capabilities of Maximo. These products benefit business end-users and I.T. super-users by simplifying data management and enhancing data visualization. The iMaxeam suite of products include MAXLS for Excel-like data management, MAXVS for visual calendar scheduling, MAXPRJ for project management and MAXTM for time management. By implementing the simple, useful and powerful iMaxeam products, Maximo end-users in the transportation, financial, energy and government sectors can better manage, review, and understand business process data that is critical to success. iMaxeam has offices in the Americas and offers full support and upgrades on all iMaxeam add-on products.
IBM®, Tivoli®, and Maximo® are registered trademarks of International Business Machines Corp.