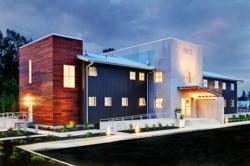 The urgency of USGBC's mission has challenged the industry to move faster and reach further than ever before, and this team serves as a prime example with just how much we can accomplish.
Ferndale, WA (PRWEB) July 19, 2012
IMCO General Construction announced today that their office building and headquarters located in Ferndale, WA, has achieved LEED Certification by the U.S. Green Building Council. The "LEED" (Leadership in Energy and Environmental Design) green building certification program is an internationally recognized green building system that promotes sustainable building and development practices.
The IMCO office/headquarters was designed and built by Axiom Design Build of Seattle (Architect, John Cashman of Axiom and Interior Designer Heather Cashman of Axiom). The project team also included landscape architects from The Philbin Group, civil engineer Jeff Vander Yacht from Pacific Surveying and Engineering, structural engineer Mike Annee from PAO Structural Engineering Inc, mechanical engineers from Berona Engineers, and lighting designer Jim Sultan from Studio Lux.
Rick Fedrizzi, President, CEO & Founding Chair of the U.S. Green Building Council says of the recent certification, "IMCO's and Axiom's LEED certification demonstrates tremendous green building leadership. The urgency of USGBC's mission has challenged the industry to move faster and reach further than ever before, and this team serves as a prime example with just how much we can accomplish."
The IMCO building was completed in the summer of 2010 and is owned by Patti and Frank Imhof, Owners and Founders of IMCO General Construction. While this recognition is a tremendous honor for both the IMCO team and the project team, it also represents the company's commitment to helping employees thrive by providing a healthy working environment. A leader in the construction business for over three decades, IMCO is committed to increasing green building practices across the industry.
Axiom has designed and built hundreds of "green" projects in the Pacific Northwest, but IMCO's office building is Axiom's first LEED Certified project. Heather Cashman, Principal of Axiom Design Build says of the recent certification, "The LEED Green Building Rating System really caught our attention as to the numerous ways design and construction practices affect our environment. It's common to manage waste, install reclaimed finishes or use recycled products, solar panels, and so on. However, this new system sets the bar high and delves into mechanical systems, air quality, location, landscaping, energy use, environment, and transportation alongside innovation and materials."
Some of the crowning "green" system achievements of the IMCO office include: heating and ventilation systems designed to create optimal energy performance and superb air quality, a 16,000 gallon rain cistern installed underground to capture rainwater for irrigation purposes, lighting design that maximizes day lighting and views of the outdoors, and the use of reclaimed local materials throughout the building design. The building also includes open spaces, an employee gym and lunchroom and incorporates local materials and reclaimed local woods. The major goals of the project were to create a green building that would improve the well being of all employees, serve the community, and tread lightly on the environment.
IMCO General Construction is a family corporation established in 1978 by Frank and Patti Imhof. The company is founded on the principles of hard work, dedication, and commitment. After almost 35 years, IMCO continues to maintain a standard of excellence in safety, job quality, employee relations, and community involvement. Recognized in the construction industry for many years, Frank Imhof, founder and CEO, was the recipient of the Associated General Contractor (AGC) of Washington Contractor of the Year" Award in 2010 and was featured in Northwest Business Monthly earlier this year for his lifetime achievements. IMCO specializes in: energy, industrial, marine infrastructure, water, wastewater, and transportation construction. IMCO understands the value in providing a positive working environment for employees and is proud to support the green building movement.
IMCO office photos © willaustin.com
Websites:
http://www.imcoconstruction.com
http://www.axiomdesignbuild.com
http://www.usgbc.org
http://www.willaustin.com