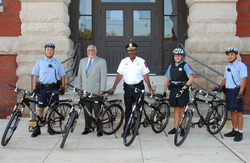 We're proud to be a partner of the IMD and thank them for this generous contribution.
Chicago, IL (PRWEB) January 5, 2009
The Illinois Medical District (IMD) is again lending a helping hand to local police enforcement, donating two Segway personal transporters to the Illinois State Police. This most recent donation comes just months after the IMD donated four Trek Police bikes to the University of Illinois at Chicago (UIC) Police. Both the Illinois State Police and UIC Police are members of the District Security Group (DSG) who patrol the 560 acres of IMD ground located just west of Chicago's downtown Loop.
"The IMD is thrilled to make these donations to the police force who keep our members employees safe - which, totaling over 20,000, is no small job," said IMD Executive Director Samuel W. Pruett. "560 acres is a lot of ground to cover. We are happy to help our partners within the Illinois Medical District get around a little easier and hope these bikes and Segways will do just that."
On November 18th IMD Commissioner Abraham C. Morgan presented the Segways to Illinois State Police Captain Peter J. Negro, Master Sergeant Tony Lupo, Lieutenant Arturo Martinez and officer Jesse Harris Jr. In September of this year IMD Commissioner Dr. Leon Dingle Jr. presented the Trek Police bikes to John W. Richardson, Chief of Police at UIC.
The Segways and Trek bikes will be used by the police officers to assist them in their patrolling of IMD grounds. "This donation will definitely enhance our policing efforts," said Chief Richardson. "We're proud to be a partner of the IMD and thank them for this generous contribution."
About the Illinois Medical District
Situated on Chicago's Near West Side, The Illinois Medical District (IMD) is the largest urban Medical District in the nation. The special-use zoning district was created by an act of the Illinois state legislature in 1941 and is home to 200 public and private entities, including Rush University, University of Illinois-Chicago Medical Campuses, the Jesse Brown VA Medical Center, and John H. Stroger, Jr. Hospital of Cook County. Also within the IMD's 560-acre community is the Chicago Technology Park (CTP), which provides access to physical, technical, financial and human resources for emerging and mature life science firms.
###