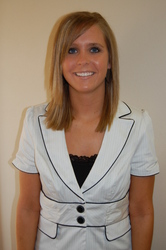 With Google having 72 percent of the search market, it is imperative that small businesses in the region gain more knowledge and understanding
Tea, SD (Vocus) June 26, 2010
Alexis Clark of IMED Consulting is now a Certified Google Advertising Professional (GAP). As the GAP, Clark will work as a liaison between Google and regional businesses to help grow their online presence. With 88 billion searches per month, Google is a must have in today's ever evolving online marketing environment.
"With Google having 72 percent of the search market, it is imperative that small businesses in the region gain more knowledge and understanding," Bob Lundin, President of IMED Consulting said.
By managing online advertising and becoming aware of web search trends and behavior, businesses can find ways to keep track of competition and experiment with possibilities in order to increase search engine optimization. Online advertisements can be found on nearly any type of website or page a user may browse, such as news, blogs, reviews, entertainment, online magazines and marketplaces.
"While working as a Google Advertising Professional I will be able to gain insight into consumer trends for each client and then incorporate those trends into an online marketing strategy," Clark said. "The Google Adwords program helps us to identify and grow upon these opportunities for each client so we can expand the reach of their business in the local market. The program also helps the clients improve their ad page rank, which in turn helps generate more leads and creates new marketing prospects for each business."
For Clark to become Google Certified she had to pass an extensive exam that tested competency within all aspects of the program. She was tested with facts and scenarios that could come up while she is working with a client.
In order to become a Google Certified Partner, a company must have managed at least a $10,000 spend over 90 days and have at least one individually qualified employee. Currently, Clark and Lundin are both certified. Lundin has been a working directly with Google for the last seven years. Only 200 companies in the nation receive direct support from Google, IMED being one of them.
About IMED Consulting:
IMED Consulting offers a variety of solutions for small business owners looking to leverage the power of Internet marketing. IMED Consulting offers design, email marketing, SEO, SEM, consulting, development, inventory management and more. For more information, visit http://www.imedconsulting.com.
###