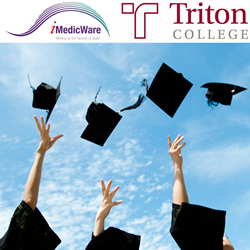 I have tried working with nearly every ophthalmic EMR on the market and iMedicWare stands out as the best.
Freehold, NJ (PRWEB) August 25, 2016
iMedicWare is pleased to announce the integration of their ophthalmology-specific EMR in Triton College's Ophthalmic Technician program in time for the Fall 2016 semester.
The Ophthalmic Technician, under the direct supervision of an ophthalmologist, assists in direct and indirect patient care. Some skills that they learn include case history recording, visual acuity measurement, visual field testing, refractometry, contact lens fitting, instrument maintenance, and assisting the doctor with minor ophthalmic surgery. iMedicWare's comprehensive system simplifies recording this data during the patient's appointment. The software's design is intuitive and easy to pick up, so students graduating from the program are prepared to employ their skills in any ophthalmology practice, regardless of software system or if they are still using paper.
"I have tried working with nearly every ophthalmic EMR on the market and iMedicWare stands out as the best," says Debra Baker, Vice President of Academic Affairs at Triton College. "We chose iMedicWare as our technology partner because their system is built perfectly for education. It's easy for new students to learn and use, and it facilitates an intuitive workflow, one which they'll find in a real ophthalmic practice. The eye care industry is moving forward and we're proud to be leading it."
"The eye care industry is a growing field and experience with medical technology and software is crucial for success. These young people have a great opportunity, and we're honored to be able to help train the next generation of ophthalmic professionals," says Arun Kapur, President & CEO of iMedicWare. "Our system has had success in other educational institutions as well, so we're excited to expand our services further in education."
iMedicWare Inc. is a leading provider of certified EMR/EPM and ASC software specifically designed for ophthalmologists. Founded in 2006, iMedicWare was created by a group of leading physicians of all ophthalmic specialties who sought to create an efficient, paperless solution. Their diverse backgrounds allowed them to design software that would perfectly fit any ophthalmological practice and its sub-specialties. The end result is that iMedicWare delivers the best, physician-approved, EMR, EPM, and ASC software solutions for ophthalmology practices and ambulatory surgery centers of any size, specialty, and scope.
Triton College is one of the nation's premier two-year institutions of higher education dedicated to student success. Located 14 miles from downtown Chicago, the school offers outstanding educational value in a student-centered setting rich in academic and cultural resources, career-oriented learning opportunities, and engaging social activities. Graduates of the Ophthalmic Technician program are in demand at ophthalmic practices all across Illinois.