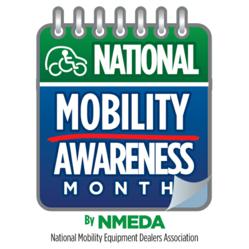 Tea, SD (PRWEB) March 29, 2012
IMED Mobility has today announced they will participate in National Mobility Awareness Month this May to help promote awareness of individuals with physical disabilities and to help provide those individuals with information about available solutions in terms of mobility equipment that can help enhance their mobility. IMED Mobility is committed to helping seniors, veterans and anyone else with physical disabilities by providing information, guidance and viable solutions to mobility needs.
IMED Mobility would like to invite all of their customers to enter the contest being held by NMEDA. Entry to the contest is free and can be done directly through the NMEDA website. The goal of the contest is to allow local heroes tell their stories about overcoming adversity and mobility problems. Anyone can submit a story, and IMED Mobility encourages anyone who knows such a hero to submit their story.
Coverage of stories will be provided by both local and national media, and each story can be voted on by the public. The stories with the most votes will win – each of the three top winners will receive a brand new 2012 handicap van, fully outfitted with modern mobility equipment.
Users are able to submit their stories in either of two ways. First, users can submit a 2-minute (or less) video clip to the NMEDA website. Alternatively, submitters can provide a 400-word text detailing the story. Friends, family and peers will be able to vote on each story and help increase the chances of winning. Voting begins on April 1, 2012.
IMED Mobility offers submitters and their friends and family a unique way to help promote their stories. Using code 831 gives five additional votes for the story in question every time it is used.
IMED Mobility is immensely proud to be a part of National Mobility Awareness Month, and looks forward to hearing the stories of local heroism and accomplishment.
To find out more about National Mobility Awareness Month, visit the company at http://www.IMEDMobility.com.
About IMED Mobility: IMED Mobility is a leading Midwest provider of wheelchair vans and other mobility solutions for those with physical disabilities. IMED Mobility offers their customers access to an enormous inventory of handicap vans and now home accessibility products, enabling them to gain greater mobility and increase their quality of life.