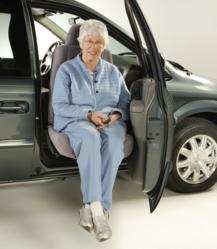 (Vocus/PRWEB) April 13, 2011
IMED Mobility, a dealership out of Tea, South Dakota, is now offering Turny/Turny Orbit Seats for physically disabled users. IMED describes this technology as a revolutionary system for higher wheelchair vans. Using the system, the seat rotates the driver so that he or she comes outside the vehicle and is lowered down to the ground in one smooth automatic motion.
Bruno Turny/Turny Orbit Swivel Seats make it possible for disabled drivers to leave the vehicle without climbing, twisting or turning beyond what is comfortable. The full system, the Turny/Turny Orbit Swivel Seats, is automatically powered, whereas the regular Turny system is rotated manually.
This system, provided by Bruno, is ideal for handicap vans and converted vans with wheelchair lifts. The system holds up to 330 pounds and has passed the Federal Motor Vehicle Safety Standards for modern conversions. IMED states that the installation of this conversion does not affect resale value, since no structural modifications are required for an existing vehicle. The system can be easily installed in a mini-van, SUV, pickup truck, CUV or full size van. The company is now broadcasting a nine minute video on how the Turny/Turny Swivel Seats work for disabled users, which includes a visual demonstration of the unit in action.
IMED Mobility has already made headlines for offering an innovative "front door delivery" service, which guarantees that the company will have a "trained and certified delivery staff" take the vehicle to a customer's home or work place.
With innovative new features Turny/Turny Orbit Seats (courtesy of manufacturer Bruno) and its customer-friendly policies, it's no wonder IMED is one of the most trusted names in wheelchair vans today.
About IMED Mobility: IMED Mobility was first founded in the year 2003 and has since become one of the nation's largest dealers for handicap vans and wheelchair lifts in the nation. The company is also one of only 182 dealers nationwide that are nationally recognized as up to the Quality Assurance Program standard.
###