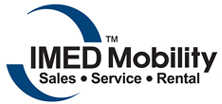 Tea, SD (PRWEB) April 12, 2012
IMED Mobility, a nationally leading mobility dealer, has today announced the debut of their innovative new smartphone and tablet app. The new app is available for both Android and iOS devices via the iTunes store, Android Marketplace and Amazon Appstore.
The new app is a "must have" for any current customer of IMED Mobility, but it is also a handy tool for any individual with physical disabilities. The app offers vital functionality, instant access to important information and much more.
Within this new mobility app, IMED Mobility has included numerous important features. For instance, users are able to use the one-touch dialing feature to call the dealership. In addition, users also have the ability to find locations, learn more about events at IMED Mobility and submit a request for a rental wheelchair van directly from their device.
One of the most innovative features of the new IMED Mobility app, however, is the inclusion of the 24/7 emergency number. With the one-touch dialing function, users can touch a single button and be connected with the dealership immediately, regardless of the day or night. This ensures that any emergency can be dealt with immediately – IMED can dispatch a service vehicle to the user's location to tow a wheelchair van or to provide other necessary service immediately.
Other features include the ability to schedule wheelchair van or mobility equipment service directly from the device, learn more about new mobility equipment and products, and even view the dealer's inventory of handicap vans. There is also a built in Fan Wall feature, a referral feature and more.
To find out more about what the new IMED mobility mobile app can do, visit the company at http://www.IMEDMobility.com.
About IMED Mobility: IMED Mobility is a leading Midwest provider of wheelchair vans and other mobility solutions for those with physical disabilities. IMED Mobility offers their customers access to an enormous inventory of handicap vans and now home accessibility products, enabling them to gain greater mobility and increase their quality of life.