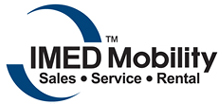 Roseville, MN (PRWEB) May 30, 2013
This year, the event will take place on Thursday, June 20th. The day will kick off at 10 AM and end at 7 PM. The open house will feature free food and beverages, the chance to win a number of great prizes, as well as demos and vendors from some of the biggest names in the mobility industry.
IMED Mobility is one of America's premier suppliers of new and pre-owned wheelchair accessible vans and mobility equipment. With services ranging from van rentals and conversions to residential solutions, IMED has had the privilege to work with customers across the upper Midwest. The open house serves as a way for IMED to thank its customers, as well as a chance for attendees to get acquainted with the new handicap accessible vehicles, products and services IMED offers.
The VMI Toyota Sienna and the Mobility SVM Pick-Up are two of the new vehicles that will be showcased at the open house. Both vehicles have set a new standard for the way that people think about wheelchair accessible vehicles. The Sienna features Access360 with maximized vehicle space and aesthetics, whereas the SVM combines safety and convenience with the rugged driving experience only a pick-up truck can bring. The opportunity to see each vehicle and talk to a vendor will be provided at the event.
All of the fun, food and prizes will be available on June 20th, but if you have any questions in the meantime, do not hesitate to contact the staff at IMED Mobility today. Get ready for the open house event of the summer brought to you by your Roseville IMED Mobility store!
About IMED Mobility: IMED Mobility is a leading Midwest provider of wheelchair vans and other mobility solutions for those with physical disabilities. IMED Mobility offers their customers access to an enormous inventory of handicap vans and now home accessibility products, enabling them to gain greater mobility and increase their quality of life.