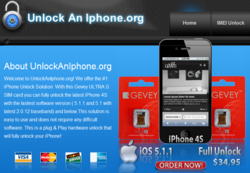 (PRWEB) September 25, 2012
iPhone 5 has emerged as the most successful iPhone ever built by Apple Inc. The phone received tons of pre-orders and more than 2,000,000 units were sold on the very first pre-order day. The unlocking of an iPhone depends upon two things: the software and the hardware. The iPhone 5 is equipped with the latest iOS6, and a brand new baseband (Source:unlockboot.com/2012/09/factory-unlock-iphone-5-ios-6.html). These two obstacles bring choices down to just an option - IMEI unlock. UnlockAniPhone.org now offers iPhone 5 IMEI unlock for the iphone users that want to run their iPhone 5 on any desired network.
It is really difficult to find a trustworthy service to unlock the iPhone 5, as this latest phone was launched just days back. There are a couple of online sites that claim to provide iPhone 5 unlocking services, but most of them are not trustworthy. UnlockAniPhone.org is one of the few sources that can be used for iPhone 5 IMEI unlock.
UnlockAniPhone.org has a dedicated team at its back. All support team members work really hard, and strive hard to provide quality services to all customers. One has to be a true iPhone fan in order to understand the emotional bond that iPhone owners have with their beloved Apple smart phones. Professionals at UnlockAniPhone website truly understand this bond.
IMEI unlock is a permanent unlock that eliminates the need for any further unlocking even if an OS update is performed. IMEI unlock and factory unlock is the same thing. Such unlock doesn't void the warranty, as there is no jailbreaking involved. Another benefit is that the features and functionality of an IMEI unlocked iPhone 5 remain the same as they were before unlocking. Users have nothing to worry about once they get their brand new iPhone 5 unlocked by UnlockAniPhone website and they can use it on any GSM network service provider in the world.
For more details about IMEI unlocking service, visit http://www.unlockaniphone.org/112-2-3-2.html.