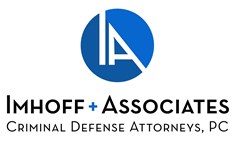 Los Angeles, CA (PRWEB) January 15, 2014
Heading into 2014, Imhoff &Associates, P.C., one of the largest attorney network law firms in the United States working exclusively in criminal defense, brings a new look and feel to their firm with a new website design and logo. In addition to the website's instant online consultations, the firm has created an iApp which will give advice on what to do and not do in certain situations, helping those in need of finding an attorney immediately.
This criminal defense firm celebrated their ten year anniversary in 2013, ending it nicely with several notable wins including the case of John Wright (Case # CR12F00410-00; CR12F00410-01/ Circuit Court of Wise County & the city of Norton), who was charged with a Felony Obtain Money by False Pretense plus a Felony of Grand Larceny. Imhoff & Associates achieved great results, as all of John Wright's charges were dismissed.
With a new year comes new laws and Imhoff & Associates has become well versed in 2014's new criminal laws which have taken effect, including the new Paparazzi law in California. There are now tougher penalties, such as facing up to a year in county jail and a fine up to $10,000 for photographers taking photos and video of celebrities' children without consent and in a harassing manner.
With criminal defense attorneys representing forty-eight states and Puerto Rico, Imhoff &Associates, P.C. areas of expertise are criminal defense of all major offenses including murder and attempted murder, domestic violence, kidnapping, assault and battery, terrorist threats, vehicular manslaughter, hate crimes, sexual offenses, drug offenses, property crimes, alcohol crimes, white collar crimes and specific legal matters such as expungements, DNA evidence, and immigration, among others. For more information, please call 888-445-6220 or visit http://www.criminalattorney.com.
About Imhoff & Associates, P.C.
Imhoff & Associates, P.C. is one of the largest criminal defense law firms in the nation. This exclusive criminal defense law firm exists to enthusiastically represent the accused to fulfill the promise of our nation: Innocent until proven guilty.
About NALA™
The NALA works with local business owners offering new online advertising & small business marketing tools, great business benefits, education and money-saving programs, as well as a charity program.
PR Contact:
ttendell(at)thenala(dot)com
805.650.6121, ext. 361