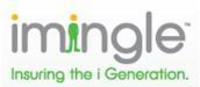 The i Generation is already using social media and already buying insurance. So why not reward them for doing both?
Chicago, IL (PRWEB) November 30, 2010
In the age of "likes," "tweets," and "friending," insurance may not seem like the trendiest topic in the world, but an insurance provider is betting that a whole new generation of policyholders will engage with friends through their favorite social media channels to help them save significant money on insurance. Today, iMingle™, a new brand of direct-to-consumer insurance, was launched as the first insurance provider for the i Generation, those consumers who expect technology and service to work together to make life easier.
Most insurance companies offer discounts if you insure multiple cars within a household. iMingle takes this concept a step further by allowing consumers to combine (or "mingle") their policies with those of their friends so that they both benefit from the iMingle Network™ Discount of 10 percent. iMingle coverage is available for home, condo, renters and auto insurance.
Here's how it works: When a customer is shopping for insurance quotes, they use a widget to let their friends know about the available discount. They have over a dozen choices for how they want to share the iMingle tip, including email; instant messaging; blogging; and social networking sites like Facebook, Twitter and LinkedIn. When a friend enrolls and agrees to the iMingle safety pledge, both customers save 10 percent on their policies.
"We are doing something that is entirely new in the insurance business," said James Schulte, president of the iMingle companies. "For quite a while now, consumers have been taking advantage of group deals for smaller purchases like at restaurants and spas. With iMingle, they now have the opportunity to take advantage of big discounts on one of their larger monthly household expenses. The i Generation is already using social media and already buying insurance. So why not reward them for doing both?"
While iMingle's social media component is believed to be the first in the industry, it is not the only way iMingle consumers can save money. Other policy discounts include:

Preferred Payer Discount™ – the more customers pay upfront, the more they save (with the greatest savings by those paying in full)
Free-A-Tree™ Discount – a five percent discount for drivers who get quotes and sign up online and enroll in the Easy-Pay automatic payment service
Retro Loyalty Discount™ – iMingle rewards customers for their loyalty to their previous insurance carrier based on the length of their relationship
Safe & Sound® Discount – additional discount for continuously insured drivers without accidents or moving violations for at least three years
Happily Married Discount™ – married couples, happy or not, qualify for a discount, as do legally recognized civil unions and domestic partnerships
iMingle also bundles popular coverage options into convenient and affordable packages:

Protect Your Sanity™ – includes Roadside Assistance, Rental Car Reimbursement and Trip Interruption
Protect Your Wallet™ – includes Price Lock™, Accident Forgiveness, Renewal Assurance™ guarantee and Disappearing Deductible (which allows customers to take $100 off their collision deductible right away and another $100 for each year they go without an accident)
Protect Your Family – includes Car Seat Replacement, Dependent and Pet Protection
iMingle is now available in 10 states, including Pennsylvania, Michigan, Illinois, Indiana, Missouri, Minnesota, Colorado, Nevada, Oregon and Iowa.
iMingle is part of the Unitrin, Inc. (NYSE: UTR) family of companies, which has nearly $9 billion in assets. More information is available at http://www.iMingle.com or by calling 800-315-0473.
# # #