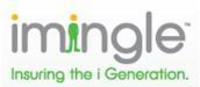 Consumers have already embraced the group deal concept for small, discretionary purchases. The iMingle tip can mean saving hundreds of dollars per year on car insurance. Even with a topic as dry as insurance, that's a deal worth tweeting about."
Chicago, IL (PRWEB) February 15, 2011
iMingle, a new brand of direct-to-consumer insurance, has launched in Pennsylvania as the first provider to offer group buying for auto insurance.
The new iMingle brand is aimed at what the company calls the i Generation, those consumers who routinely turn to their social networks to find information, compare deals and seek recommendations from their peers. For the first time, an insurance brand has been designed specifically to meet the needs - and expectations - of these policyholders by rewarding them for two things they are already doing: using social media and buying insurance.
Most insurance companies offer discounts if you insure multiple cars within a household. iMingle takes this concept a step further by allowing consumers to link, or "mingle," their policies with those of their friends so that they can both benefit from the iMingle Network™ Discount of 10 percent. This is on top of iMingle's other policy discounts, which can save customers up to 50 percent or more.
The sharing process is simple. When a customer purchases an iMingle auto policy, they can use a widget to let their friends know about the available discount. They have over a dozen choices for how they want to share the iMingle tip, including email, instant messaging, blogging, and social networking sites like Facebook, Twitter and LinkedIn. If a friend clicks on the link and also purchases a policy - and both agree to the iMingle safety pledge, both customers get an extra 10 percent discount.
"What we are doing with the iMingle Network Discount is entirely new in the insurance business," said Michael Stahl, iMingle's vice president of product and strategy. "Consumers have already embraced the group deal concept for restaurants, online retailers and other small, discretionary purchases. But, rather than saving $10 on dinner or $5 on a car wash, the iMingle tip can mean saving hundreds of dollars per year on car insurance. Even with a topic as dry as insurance, that's a deal worth tweeting about."
iMingle's group buying component is believed to be the first in the insurance industry. However, it is not the only way iMingle consumers can save money. Other policy discounts include:

Preferred Payer Discount™ - the more customers pay up front, the more they save (with the greatest savings by those paying in full)
Free-A-Tree™ Discount - a five percent discount for drivers who get quotes and sign up online and enroll in the Easy-Pay automatic payment service
Retro Loyalty Discount™ - iMingle rewards customers for their loyalty to their previous insurance carrier based on the length of their relationship
Safe & Sound® Discount - additional discount for continuously insured drivers without accidents or moving violations for at least three years
Happily Married Discount™ - married couples, happy or not, qualify for a discount, as do legally recognized civil unions and domestic partnerships
iMingle also bundles popular coverage options into convenient and affordable packages:
Protect Your Sanity™ - includes Roadside Assistance, Rental Car Reimbursement and Trip Interruption
Protect Your Wallet™ - includes Price Lock™, Accident Forgiveness, Renewal Assurance™ guarantee and Disappearing Deductible (which allows customers to take $100 off their collision deductible right away and another $100 for each year they go without an accident)
Protect Your Family - includes Car Seat Replacement, Dependent and Pet Protection
In addition to Pennsylvania, iMingle is now available in 11 other states: Michigan, Illinois, Indiana, Missouri, Minnesota, Colorado, Nevada, Oregon, Wisconsin, Virginia and Iowa. Homeowners insurance and renters insurance are also available from iMingle.
Connect with iMingle and its highly sociable green mascot, iMingle Max, on Twitter and Facebook.
(Please note: The term "group buying" as used in this press release is intended to mean collective buying in the social context and not the purchasing of insurance as part of an employer-sponsored group or other affinity association.)
iMingle is part of Unitrin, Inc. (NYSE: UTR), which has over $8 billion in assets and an A- (Excellent) Rating from A.M. Best for insurance operations. More information is available at http://www.iMingle.com or by calling 800-315-0473.
###