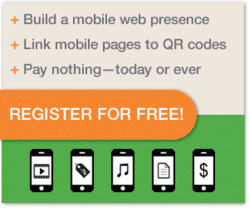 The new free version of Immediatag empowers small businesses to engage their customers through mobile devices—quickly, effectively, and inexpensively.
Austin, TX (PRWEB) August 21, 2012
Immediatag, LLC, developer of the Immediatag platform for business, is excited to announce that the Tier 1 version of Immediatag is now available free of charge. This free version, which includes all the mobile content management and usability features of the premium tiers, is available immediately to all new customers who register on immediatag.com.
No credit card information, contracts, or fees are required for registration.
AN OPPORTUNITY FOR SMALL BUSINESSES AND INDIVIDUALS TO GO MOBILE
The free version of Immediatag offers a feature set that is ideal for small businesses and individuals looking to "go mobile" with a mobile web and/or mobile tagging strategy.

Create up to two mobile landing pages using the Immediatag mobile content management system (CMS). Our CMS is a point-and-click tool—anyone who can complete an online form can build a mobile-optimized landing page. No programming necessary.
Create one QR code or Microsoft Tag and then link them to a mobile landing page or some external content (e.g., a website, a YouTube video, a Wikipedia page). This is a great way to integrate mobile into other communication channels.
Easily upgrade at any time to a higher tier of service if/when additional capacity (e.g., a greater number of mobile landing pages) is required.
"With the free version, customers are limited in the number of mobile pages and QR codes they can maintain at one time," explains Joseph Pagano, Immediatag CEO. "Yet there are still many really great uses for the free version—particularly for small businesses looking to go mobile quickly and with minimal costs."
For example, a small business could "mobilize" their traditional print ads by adding a QR code or Microsoft Tag and linking to a mobile landing page. They could then use the remaining free mobile landing page to create a mobile version of their website—either as a permanent, single-page replacement or as a placeholder until the business can get their entire site converted.
For additional details about the free version and some potential uses for small businesses and individuals, please visit the Immediatag website.
Small businesses and individuals wishing to get started today can register online.
ABOUT IMMEDIATAG
Immediatag, LLC is a software developer based in Austin, Texas.
Our first product, the Immediatag mobile tagging platform for business, features a mobile content management system that allows businesses to create high-quality, media-rich mobile landing pages and other types of mobile content—quickly and with no programming required. It also features management tools for creating and organizing bridges (such as QR codes) that connect customers in the real world to engaging, relevant mobile content in the digital world.
For more information about Immediatag, please visit http://immediatag.com.