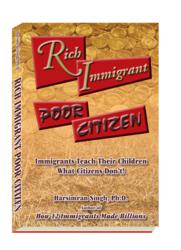 "In order to be successful, you must always focus on turning a negative into a positive."
- Dr. Harsimran Singh Ph.D.
Upper Brookville, NY (PRWEB) July 18, 2012
It is every parent's dream to send their deserving child off to an Ivy League school such as Harvard, Yale, or Brown. But how?
As many high school students are gearing towards their next year of high school, parents are becoming weary of the approaching college years. When seeking advice, it is best to listen to those who have successfully done it: immigrants.
It is a fact that 41% of Ivy League attendees are immigrants. Dr. Harsimran Singh's eye-opening book, Rich Immigrant Poor Citizen: Immigrants Teach Their Children What Citizens Don't!, discusses the many reasons behind more U.S. immigrants successfully attending Ivy League schools than citizens. Furthermore, Dr. Singh reveals why, on average, immigrants make more money than citizens. A firm believer in that everyone can achieve a high level of financial and spiritual success, Dr. Singh releases one of his crucial secrets to the public: "In order to be successful, you must always focus on turning a negative into a positive."
This is a lesson taught to most immigrants, including Leonardo Leal of Bradenton, Florida—a Mexican immigrant who had gone from being homeless on several occasions to receiving scholarship offers from prestigious Ivy League universities including Harvard and Stanford. Due to his unquenchable desire to pursue college, Leal turned every negative into a positive.
Inspired by other stories of perseverance, Dr. Harsimran Singh is conducting a new sweepstakes through social media, where each candidate is encouraged to submit their inspiring story for a chance to win a prize. Please visit LinkedIn, Facebook, or Twitter to learn more.