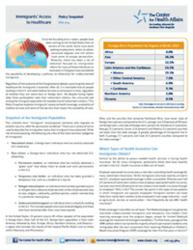 Cleveland, Ohio (PRWEB) June 06, 2013
Since the founding of our nation, people have been coming to the United States from all corners of the world. Some have come seeking employment, others to obtain advanced degrees and still others have come to escape persecution. Recently, there has been a lot of attention focused on immigration reform for many of these individuals as lawmakers in Congress have considered the possibility of developing a pathway to citizenship for undocumented immigrants. Regardless of the outcome of this Congressional debate, examining the immigrants' access to healthcare is essential.
May's policy snapshot, Immigrants' Access to Healthcare, examines the various types of health insurance and health services available to immigrants, uninsured rates among the immigrant population, and barriers to care.
A full list of our publications can be found on our website along with a wide range of resources covering a variety of healthcare topics.