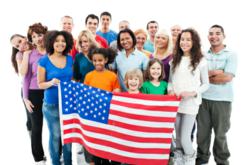 At Immigration Direct, we believe that the process of preparing U.S. immigration applications should be easy to understand, simple to complete, and accessible to every qualified person. The purpose of our site is meet all of those goals.
(PRWEB) September 17, 2012
ImmigrationDirect.com announces that it is celebrating Citizenship Day in a big way with the offer of a free Citizenship Test DVD. The multilanguage DVD, which is currently priced on the website at $60, contains expert tips; lessons on U.S. history, civics, and the English language; and an official USCIS practice interview. In honor of Citizenship Day, every person who prepares a U.S. Citizenship Application with ImmigrationDirect.com will receive the DVD for free.
The U.S. Constitution was signed 225 years ago today. The Constitution guarantees the rights of the American people and defines the governing law of the land. Americans are encouraged to think of September 17th as a day of reflection on the rights and responsibilities of a U.S. Citizen.
Form N-400 is the application people use when filing for U.S. citizenship. A step-by-step system like the one at ImmigrationDirect.com makes the process simple and easy-to-follow. Applicants can choose to take the free eligibility quiz prior to beginning the application to ensure they meet the requirements. Only permanent residents of the U.S. with legal status can apply.
The difficult part for most people is the test and the interview process that follows the submission of the application. The applicant must be able to read, write, and speak English and must be able to demonstrate it. On top of that, the applicant must also have knowledge of U.S. history and government. That is where a resource such as this multilanguage Citizenship Test DVD ImmigrationDirect.com offers will come in handy.
In order to take advantage of this opportunity of a free Citizenship Test DVD, call ImmigrationDirect.com's customer service line at (415) 375-3145.
ImmigrationDirect.com is a do-it-yourself online service designed to simplify U.S. immigration applications in English and in Spanish. The company works to ensure its customers present error-free applications to the USCIS, U.S. Citizenship and Immigration Services. For more information, visit http://www.immigationdirect.com