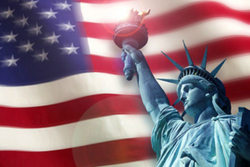 Miami, FL (Vocus) October 25, 2010
VisaAttorneys.com has re-designed their website to include more up to date immigration law information, contact details, and help for individuals. Immigrants living near Miami and Southern Florida can now take advantage of the most experienced immigration lawyers available anywhere in the continental US. With experience from both private practice and government sectors, every possible strategy is examined before any immigration lawyer from Bernstein Osberg-Braun & de Moraes steps foot inside the courtroom. In fact, most cases go so smoothly that many of their clients never see the inside of any government office.
VisaAttorneys.com now has an online selection of all available immigration visas for individuals looking to become US citizens. The new database describes the necessary information, and is updated weekly with new laws, policies, and now allows visitors the ability to sign up to their newsletter to stay up to date on on-going green card laws.
VisaAttorneys.com is the online representation of the largest immigration law firm in South Florida, Bernstein Osberg-Braun & de Moraes. With over 60 years of combined experience, this is the go-to law firm for immigration matters including the EB-5 Visa, green card, work permit, and deportation matters. The multi-lingual staff offers experience from multiple disciplines including both private immigration lawyers and former Homeland Security lawyers and prosecutors. This insider information has proven invaluable in the quick resolution of many types of immigration-related legal problems.
EB-5 Visas
The EB-5 Visa, also known as a permanent work visa or an employment creation visa, is one of Bernstein Osberg-Braun & de Moraes' specialties. The basic premise behind the EB-5 is that an alien, or potential immigrant, has either invested, or is in the process of investing, a substantial amount of legally-obtained funds in a new US business that will employ at least 10 people. Extensive documentation is required to support an EB-5 application. The Bernstein Osberg-Braun & de Moraes legal team possesses both the knowledge and experience to facilitate the application process.
Green Card and Work Permit
Depending on the situation, the immigrant will have to choose between a confusing number of government forms to complete in order to obtain a green card or a work permit. They may also be required to have their employer complete the forms or more forms on their behalf. In most cases, each form must be submitted to the appropriate government agency along with a substantial application fee. When the incorrect form is sent, the application fee is often forfeited, and the applicant must start over. By using the services of an immigration lawyer, the immigrant can be confident that all paperwork will be completed with 100% accuracy on the first attempt.
Citizenship
Many immigrants living in the United States dream of citizenship. However, the road to US citizenship can be long and riddled with complications. Immigration law can be confusing to anyone who is not educated in the intricate details of the extensive rules and regulations. To make it even more difficult, there are separate sets of rules for various situations. For example, the process and legal issues can vary depending on whether you are related to any US citizens. This is where the immigration law experts at Bernstein Osberg-Braun & de Moraes can help. Their experience will find the fastest path to citizenship for each of their clients based on their individual situation.
Specialized Visas
While most immigrants simply want to come to the US for work opportunities and civil liberties, some can fulfill a documented need for a specific skill. Special visa categories include athletes and entertainers, health care workers, religious workers, and people with extraordinary abilities. In fact, one of the best ways to expedite your visa application is to demonstrate a skill that is in extreme demand with a limited supply within the existing US population. The immigration experts at Bernstein Osberg-Braun & de Moraes will interview each client to determine if their education and past employment history warrants a specialized visa application.
At VisaAttorneys.com, each potential client can find information on these legal issues in addition to other resources. Each lawyer has been represented with a picture and a short biography. In some cases, full contact information is included. By disclosing as much information as possible, the immigration client will know exactly what to expect when they retain the services of a Bernstein Osberg-Braun & de Moraes immigration lawyer.
# # #