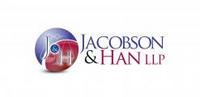 Though we have successfully represented clients out of our other offices, a dramatic increase in demand for the firm's legal services in the San Fernando Valley necessitated an additional office in Encino
Encino, CA (PRWEB) July 1, 2008
Jacobson & Han LLP, one of the country's leading full service immigration law firms, announced today it has opened an office in Encino, California to establish its 4th office. Firm founders Nikki Mehrpoo Jacobson and Susan S. Han will head the new office. Nikki Mehrpoo Jacobson and Susan S. Han are widely recognized as experienced immigration attorneys, advocates and educators. The firm's Encino office will concentrate on immigration deportation defense, litigation, work place immigration raids and as always visas.
"Though we have successfully represented clients out of our other offices, a dramatic increase in demand for the firm's legal services in the San Fernando Valley necessitated an additional office in Encino," says Susan S. Han. "With offices through out Southern California we are more capable than ever to serve clients anywhere in the country and the world."
The new Encino office will enable Jacobson & Han LLP to better serve and respond to the immigration needs of the firm's clients. Jacobson & Han LLP's Encino address is 16133 Ventura Boulevard, 7th Floor, Encino, California 91436. The main phone number is (818) 401-4022. E-mail: encino (at) greencard4you.com
About Jacobson & Han LLP
Jacobson & Han LLP (http://www.greencard4you.com) is a full-service immigration law firm with extensive experience handling applications for individuals, families and business clients. Immigration law is federal law which means that we are licensed to assist clients nationwide and worldwide. We have special expertise in all aspects of immigration law; including, work visas, fiancée visas, visa waivers, green cards through family and employment, naturalization and citizenship, all aspects of deportation and removal proceedings and more. We are well known for our zealous and creative advocacy on behalf of our clients and no case is too small for our attorneys.
Our immigration lawyers represent clients in complying with the complex immigration requirements of the United States Citizenship & Immigration Service, Department of Labor and Department of State to obtain immigration benefits for you, your family and employees. We assist families with all petitions and applications and assist employers retain highly skilled workers in such fields as information technology, medical research, computer software, engineering, hospitality, art, martial arts and medicine.
The attorneys at Jacobson & Han LLP also have extensive experience in all aspects of immigration litigation (deportation defense) before the Executive Office for Immigration Review, Board for Immigration Appeals and District and Circuit Courts. For more information please contact Jacobson & Han LLP at http://www.greencard4you.com.
###