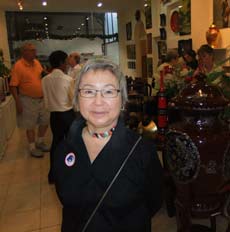 I love hearing the stories, so that they can feed my soul; so that I can grow.
San Jose, CA (PRWEB) July 09, 2012
Flo Oy Wong will speak about past immigration human rights infringements and show how these mistakes of the past are beginning to repeat itself.
She is a contemporary mixed media artist who tells visual stories. She has received two "National Endowment for the Arts" grants to support her artwork. Her work lies at the intersection of art and history and is a vehicle through which viewers learn difficult yet inspirational lessons. A co-founder of the Asian American Women Artists Association and a former board member of the National Women's Caucus for Art, she is a visiting artist at several colleges and universities.
A selected list of US art residencies Ms. Oy Wong has held include Art Omi in New York, Headlands Center for the Arts, and The Djerassi Resident Artists Program in Woodside, CA. She has shown her art locally, nationally and internationally and has been featured on the national television program, Newshour with Jim Lehrer, and the KQED SPARK television program. Writings and images of her art appear in many news outlets, publications, and educational films.
Ms. Oy Wong is a recipient of the 1995 National Women's Caucus for Art President's Award. __________________________________________________
Tickets on sale until August 22 though the HWR website, Honoring Women's Rights website.
http://www.nationalwca.org; Women's Caucus for Art creates community through art, education, and social activism. Honoring Women's Rights conference 9/7-9/9.
http://www.steinbeck.org; National Steinbeck Center inspires people to make a positive difference in our world, 1 Main Street, Salinas, Monterey County, CA