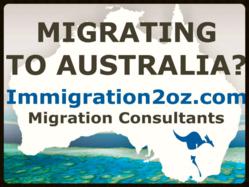 We will also provide you with our comprehensive visa evaluation, which will tell you if you qualify for a visa to Australian, if so, which one and how much it costs.
Leeds & Manchester, UK (PRWEB UK) 4 June 2013
Immigration2oz is holding free information Seminars about migrating to Australia in conjunction with proud partners PSS Removals, Moneycorp, GlobalQrops, Transfur Animals and National Australia Bank.
Special Guests: Representatives of Australian State Governments will also be attending from Victoria, Western Australia & South Australia.
This special event will give attendees the chance to find out about:
Visa eligibility for an Australian visa, if so, which one;
Exactly how the various Australian visas work;
What it's really like living down under;
The cost of living in Australia;
The Education and Health Care systems in Australia;
Job opportunities in Australia.
Two seminars are hosted on each day; one seminar will be in the morning from 10am - 1pm, and another in the afternoon from 2pm - 5pm
Spaces are limited to about 50 tickets, per seminar - due to high demand please follow the link provided and book now.
The seminars will be roughly an hour long, followed by a questions and answers session. Thereafter the format breaks out into a tradeshow set up (for one-to-one discussions).
Printed copies of your free visa evaluation will also be provided at the seminar, before the one-to-one consultations.
Leeds
Saturday 15th June - Immigration2oz - Australian Migration Seminars
Hilton, Neville Street, Leeds, LS1 4BX
10am- 1pm & 2pm-5pm
Manchester
Saturday 10th August - Immigration2oz - Australian Migration Seminar
Hilton, Outwood Lane, Manchester, M90 4WP
10am- 1pm & 2pm-5pm
Already registered with Immigration2oz - then call 01483550914 to book tickets now.