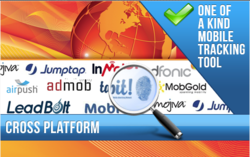 Kansas City, MO (PRWEB) July 19, 2012
Smart Mobile Marketing is all about reaching your customers or potential customers one at a time in a way that adds value to their day. What most mobile marketers and advertisers do not know, is that the mobile advertising networks in which they place their mobile advertisements on, run rampant with click fraud. This means millions of dollars are being wasted by honest advertisers while the mobile ad networks are making fortunes providing sometimes useless and even fraudulent traffic practices.
iMobiTrax is a revolutionary, self-hosted application designed specifically to track and optimize campaigns that target mobile devices. With iMobiTrax, merchants, agencies and affiliates will be able to quickly and accurately analyze click data from smart phones, feature phones and tablets, right down to the device, carrier and operating system. This will allow for incredibly accurate post-click optimization, resulting in higher ROIs and increased scalability.
Managing Partner of iMobiTax, Ralph Ruckman says that "mobile marketing is way more than just its own unique marketing channel, it's a UNIQUE mass media. Even thought TV, Print and Internet advertising was before it, mobile advertising is the most widespread form of mass media worldwide. It's also the most personal. What makes mobile advertising such an effective marketing tool for advertisers is that you are reaching consumers one at a time on their mobile devices versus tv, print, radio and Internet advertising where you are reaching mass audiences all at once."
"Advertisers whom utilize the Proprietary mobile tracking platform of iMobiTrax have already reported less click loss from mobile devices which have slower load speeds than traditional computers. In mobile, a fast platform is essential in retaining the clicks and visitors you already paid for. iMobiTrax has been benchmarked and optimized for speed, reducing the chance that any request will time out" Ralph Ruckman went on to say.
The iMobiTrax platform was also designed so that advertisers data is never limited. Advertisers can track by device type, device manufacturer and device operating systems without the use or need of the mobile advertising networks tracking tokens, parameters and / or macros. Optionally, iMobiTrax provides the ability to track ISP / Carrier without the use of traditional ad network tracking parameters.
There is no need to spend hundreds or thousands of dollars testing every campaign. With iMobiTrax, you can group and sort your data and immediately see where you are making, or losing, money. This allows advertisers the ability to increase their return on investments and focus with laser like efficiency on which devices, manufacturers, operating systems and ISP / Carrier's that are generating the highest ROI's.