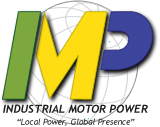 Burbank, CA (PRWEB) April 17, 2013
Industrial Motor Power and Califco Group LLC today announced a joint venture that grants IMP exclusivity in supplying power generation equipment to Califco's extensive EPCC supply chain that services the African continent.
Califco's selection of IMP as their primary power equipment provider adds a proven international source, ensuring customers continue to receive the high level of performance and service they have become accustomed to, and solidifying their presence as Africa's premier power source for the primary and secondary markets.
Founded in 2001, IMP is a global provider of wholesale power generation equipment to both the retail and reseller markets. Possessing both owned inventory, as well as a diverse network of suppliers, IMP is able to service the mobile power generation needs of multiple industries, government agencies and individual companies around the world.
Califco Group LLC is a Nigerian EPCC contractor specializing in the delivery of temporary and permanent Primary, Secondary and Stand-By Power Generation Solutions to the African continent. A full-service solution provider, Califco offers clients a single source for their new, surplus, and used products and installation needs.
Please visit http://www.impcorporation.com/company/news for more information, news and related data about IMP and Califco LLC. Please direct inquiries via email to the public relations department directly at marketing(at)impcorporation(dot)com or by telephone at (323) 268-3380.