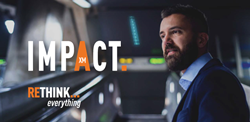 "Our presence this year at ExhibitorLive is the product of an amazing team effort," VP of Marketing and Design Tom Frisby says. "We are proud to showcase talent from all of our offices on the show floor and in our speaker sessions."
DAYTON, N.J. (PRWEB) February 23, 2019
This year, Impact XM will be featured at booth #1501 in the exhibit hall. The booth theme is ReThink Everything, and will offer attendees a chance to "rethink their selfie" and turn it into art using futuristic AI software, thanks to a partnership with Pikazo. Booth attendees will also have a chance to speak with on-site staff regarding engagement, design, technology, and measurement solutions.
Attendees will also be able to sign up for speaking sessions with Senior VP of Strategy Steve Mapes, VP of Design and Marketing Tom Frisby, VP of Client Development James Morris, VP of Client Development Lorre Crisswell, VP of Client Development Michael Zuganelis, and Associate Creative Director Brett Montplaisir. These sessions will cover a range of topics in, Branding, Engagements, Industry Trends, Measurement and Analytics, and more!
"Our presence this year at ExhibitorLive is the product of an amazing team effort," VP of Marketing and Design Tom Frisby says. "We are proud to showcase talent from all of our offices on the show floor and in our speaker sessions."
About Impact XM:
Impact XM crafts strategically driven, creatively focused brand stories through live and digital experiential marketing that delivers measurable results for its clients.
Trusted by some of the world's most respected organizations, the agency has a forty-four-year heritage of insightful strategy, brilliant creative, smart fulfillment and purposeful metrics across business and consumer trade shows, user conferences, event activations and digital engagements. Impact XM clients operate across a variety of industries, including the Aviation, Healthcare, Technology and Industrial sectors.
Headquartered in New Jersey, Impact XM maintains locations in Toronto, Los Angeles, Las Vegas, Washington D.C. and Zurich. More information can be found at:
http://www.impact-xm.com