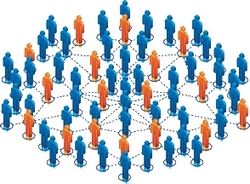 There are major differences between B2B and B2C social media. Understanding how to leverage these differences helps organizations to achieve superior business results.
London, UK (PRWEB) April 12, 2010
Mike Rowland, president of Impact Interactions will share industry leading social media best practices with attendees of Internet World 2010 on April 27th at 1:00 pm at the Earls Court Exhibition Centre. With the publicity surrounding the rapid growth of consumer focused companies using Twitter, Facebook, LinkedIn, and other free social media tools, more businesses in the business-to-business vertical are interested in learning how to leverage these applications to drive business results.
While most published success stories involving these applications usually revolve around the use of couponing and offering discounts, businesses can use social media much more effectively and efficiently. The smart use of business to business social media helps organizations to increase lead generation results, increase revenues, lower support costs, and to better understand their customers' needs. The key to delivering value in the B2B channel versus the B2C channel is to understand that there is a major difference between the audience's expectations.
"Far too often, companies focused on selling to businesses use social media in the same way that consumer products companies sell to their audiences. They also deliver large amounts of content without a coherent strategy for measuring and recognizing the significant economic results that social media can bring to an organization," states Mr. Rowland. "It's no wonder that so many B2B companies are not realizing their potential using social media. Our work with both B2B companies like Cisco, NetApp, and SAP as well as with consumer focused companies like Disney and AARP, have allowed us to build a solid foundation of best practices that we will share with our audience in London."
In his presentation during Internet World 2010, Mr. Rowland will cover the practical use of B2B social media while providing Impact Interactions' proven methodology for success. Case studies and best practices derived from more than ten years of experience helping our clients will be discussed during the presentation. The presentation's focus on measurement will also help attendees to understand and present the results of their social media projects to senior executives in their organizations.
Topics covered in this presentation include:

Current Trends in B2B Social Media
Why you should not use B2C methods in B2B Social Media
Third Party Applications are Beacons not Stand Alone Offerings
B2B Social Media Content Strategy
Measuring Your B2B Social Media Results
In addition to presenting in the Social Media Theatre, Impact Interactions Social Media team members will be available to discuss social media issues at their display booth in the exhibitor area of the meeting. Team members will be available to answer questions and provide free 30 minute initial consultations for attendees during the show at our booth located in the exhibition hall at location E7067.
For additional information regarding social media business or to have Mike Rowland speak at your event, please contact Impact Interactions at ContactUs(at)impactinteractions(dot)com or visit http://www.ImpactInteractions.com.
###