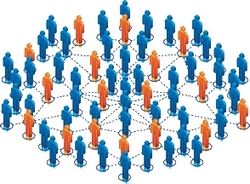 "European companies in the B2B marketplace will benefit from our companies' knowledge base of social media best practices and the full suite of services delivered by our partnership with PDAgroup." - Mike Rowland, President of Impact Interactions
London, UK (PRWEB) April 26, 2010
To meet the needs of European business to business (B2B) companies using social media as a channel for marketing, customer support, and lead generation, Impact Interactions and PDAgroup have established a partnership for consulting and management services. Focused on providing industry leading B2B social media and online community best practices, Impact Interactions and PDAgroup will help their clients realize measurable results while avoiding many of the common mistakes which companies often make using social media.
As more B2B focused companies begin to adopt social media as a strategic asset for their businesses, the partnership will be ready to support their efforts. Through strategic consulting engagements, training workshops, outsourced management, social media monitoring, and analytics services, Impact Interactions and PDAgroup will help B2B companies expand their reach, build their online brand and reputation, and deliver results for their organization.
"We are delighted to enter into this partnership with PDAgroup," stated Mike Rowland, president of Impact Interactions. "Through our work together on SAP's Best Performance partner initiatives, clear team synergies and results were realized for our joint client. Using our industry leading best practices with PDAgroup's experience in the B2B space will allow us to deliver excellent results to our joint clients using proven strategies and techniques in B2B social media and online communities."
Peter Mirski, partner at PDAgroup explains: "Our partnership with Impact Interactions brings together PDAgroup's strength in enabling best performance of people and their businesses with Impact Interactions' expertise in social media."
The partnership's initial projects include a series of social media training workshops for clients in Paris, Munich, and Milan in early May 2010. These workshops, based on Impact Interactions' proven methodologies and PDAgroup's knowledge of the partner and SMB channels will provide client teams with the basic framework for integrating social media into their demand generation and marketing efforts.
Additional joint projects underway include the creation of an exclusive member recognition program and community for SAP's SME partners launching during the third quarter of 2010.
"We look forward to using the strengths of our companies together to help our clients succeed," states Mr. Rowland. "Together we will help our clients achieve results that will exceed their expectations."
"We want our B2B clients to succeed in utilizing social media as an interactive channel which builds sustainable growth for their firms," explains Dietmar Kilian, managing partner at PDAgroup. "This partnership underlines our companies' focus on building stronger business value for joint clients with measurable results."
For additional information regarding strategic social media services including social media monitoring and measurement, contact Mike Rowland at Impact Interactions at +1 410 604 3304 or Dietmar Kilian at PDAgroup at +43 512 56 09 70.
About Impact Interactions
Based in the United States, Impact Interactions helps numerous organizations such as Cisco, NetApp, SAP, Intel, Disney, AARP, and the American Chemical Society create, manage, and measure highly successful online interactive communities and social media projects. We address the critical need of major global organizations to closely connect with their customers in the online world. Impact Interactions aligns online strategies with organizations' business goals to produce significant, measurable results through our consulting, moderation, social media monitoring, and reporting services. Learn more at http://www.ImpactInteractions.com .
About PDAgroup Gmbh
Based in Innsbruck, Austria PDAgroup is a dynamic network organization that aims at enabling best performance of people and their business through improved capacity, capability and productivity. We deliver three keys to success Talent Net, Camps & More and Innovation & Research using our professional and academic network of worldwide partnerships and combining solid academic knowledge with practical expertise. Our clients worldwide gain sustainable and measurable business results from customizable enablement services using our menu of best practices and creative excellence. Learn more at http://www.PDAgroup.net .
###