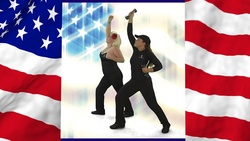 That whole size 4 thing is just not within the realm of everyone's genetic make-up and that's what Imperfect Fitness is all about.
Rancho Cucamonga, CA (PRWEB) December 30, 2009
Michelle Pearl, a self-described "physically imperfect, formerly morbidly obese couch potato" and an American Council on Exercise (ACE®) certified group fitness instructor has launched an innovative online subscription exercise service that is the first of its kind.
The Imperfect Fitness program allows would-be exercisers to sit down at their home computer, answer a few questions about their general health and fitness level and within minutes be offered a completely individualized set of original dance fitness routines which are displayed directly from their computer monitor.
Choreographed in colorful themed sets, such as "The Future of Fitness" or "Movie Moves"; each video is created with stunning high definition video backgrounds and superior quality motivating music. Then new routines are added to the individual's program constantly to assure that they will never face the boredom of repetition that is part-and-parcel with traditional exercise videos or video fitness games.
Launched in December of 2009, Pearl came up with the concept of Imperfect Fitness after noticing the bodies of the people that she had been exercising with for years. While they were healthy and fit, most still did not have figures like supermodels.
Pearl added, "I'm not your typical perfectly proportioned, impossibly petite exercise instructor. It took me years of working out, but I went from a size 26 to a size 8-10. I know size-wise this is as good as it's going to get for me. That whole size 4 thing is just not within the realm of everyone's genetic make-up and that's what Imperfect Fitness is all about."
During the sign-up process for the Imperfect Fitness program clients answer a series of questions. Based on the answers provided, each individual is assigned 3 unique exercise sets; each of increasing intensity and duration. Depending on the client's health concerns and fitness level, the client's starting set might range in length from 20 – 55 minutes. Each exercise set consists of a warm-up, an aerobic exercise segment, strength training and stretching.
Comparable to a health club membership, the $29.00 month-to-month subscription fee affords clients unlimited access to their individualized online exercise program.
For would-be exercisers looking for a way to fulfill their New Year's fitness resolutions, Imperfect Fitness offers a truly innovative alternative.
###