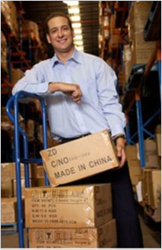 This is the ultimate training on how you can get started successfully importing a product from China to the U.S. market.
Miami, Florida (PRWEB) June 26, 2013
Importing quality goods from China is something so many of the Fortune 1,000 companies profitably do in the United States and around the world. China Import Formula is excited to share how the average individual with a dream of owning their own business or Ebay Store front, can easily and profitably import desirable goods from China to sell in the United States. China Import Formula is excited to host, for the first time ever in the US, an educational seminar to teach the general public how they can benefit from China's workforce, like so may global conglomerates like Apple and General Electric already do. This educational seminar will be held on Thursday, June 27th at 10am in the Flamingo Ballroom of the Miami Beach Convention Center on South Beach.
There are huge opportunities to make money by importing from China. However, without the wisdom of experience, it can also be a minefield. Learn from the experiences of a seasoned buyer, Brendan Elias, who has made millions importing from China and hear his importing secrets. This systematic training covers not just techniques that experienced importers use, but also how to avoid the biggest problems when importing from China to the US. Topics being presented include:

The 7 strategies for picking hot products that will sell like hotcakes in one's market
The 3 steps to avoid scammers
The 10 most powerful, proven negotiation techniques to get one's goods as cheaply as possible
The 3 special words to get free samples from the factories and how to get the order built below factory cost
This will be the best three hours ever spent on China sourcing skills and inspiration.
About Brendan Elias
Mr. Brendan Elias began learning the art of importing at an early age - his father Nat Elias pioneered the import of many items into Australia including Casio and Seiko watches as well as the world-famous Donkey Kong handheld games.
While completing his Commerce Law degree at the University of New South Wales in Sydney, Australia, Brendan took courses at a number of prestigious academic institutions around the world to extend his education, including International Trade Law at the University of Economics and Politics in Hamburg, Chinese Contract Law at the Beijing University of Politics and Law, and International Copyright Law at Queens University in Canada.
Despite his legal and economic education, Brendan's entrepreneurial blood proved too strong to ignore. He leveraged his wealth of experience and built several successful businesses that have made millions of dollars by importing high quality merchandise from China and selling at a profit. Brendan now teaches people from all walks of life to realize their dreams of leaving the 9-to-5 rat race to become successful importers in their own right.
"China Import Formula is Proud to Support The HOME Foundation"
About The HOME Foundation:
The Helping Others Means Everything, or The HOME Foundation, is a not-for-profit organization dedicated to helping our Family of Charities. Frankie Verdugo, President of The HOME Foundation, wants to help as many worthy charities as possible as they struggle during these tough economic times. Frankie Verdugo helps raise funds through luxury dream home raffles, home giveaways, prizes, and high profile celebrity events in Hollywood. "Our mission is to help charities reach their fundraising goals and to bring awareness to their praiseworthy causes."