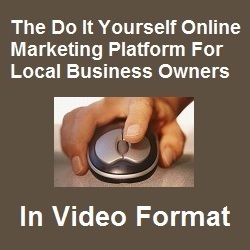 I just watched the first series this weekend and I am blown away by this! I can't imagine the amount of time it took you to learn all of this and yet here I am able to learn it all in a few days! Unbelievable! Thank you for everything." Mike Gandley
Greenville, SC (PRWEB) April 30, 2011
Henry Jordan, LLC is pleased to announce the launch of ImpromptuBiz.com. This site offers local business owners the ability to quickly learn and implement an effective online marketing strategy for their business. The best marketing ideas for small business owners available online are all easily accessible at this site.
Greg Tucker, President/CEO of Henry Jordan, LLC stated, "There has been a remarkable transformation over the last two years in how to market your local business effectively. The best marketing ideas for small business owners are now found online, no ifs, ands or buts. We have spent six months putting together content that is easy to follow and walks the business owner step by step through the process of effectively marketing their business online. We've taken what is perceived to be a difficult process and laid it out in an easy to understand video format so that anyone can start to see tangible results within sixty to ninety days and become an online marketing expert within six to nine months."
ImpromptuBiz.com is a fast growing website. Many business owners have found it to be a highly effective tool for either starting or enhancing their online presence. The costs are very reasonable and if you are not happy with your results, you can opt out at any time. In addition, the operators of this site have taken a very unique approach.
Instead of presenting several stand alone, compartmentalized tutorials, they've taken one of their existing local clients and woven his business throughout the entire presentation. Having this "real" business as a case study referenced in every video is a much more effective way to learn these marketing ideas for small business from a conceptualization standpoint.
Everything is covered in the ImpromptuBiz.com series including, but not limited to, Wordpress Website and Blog, Google Places Listings, Facebook Fan Pages, Text Messaging, Email Campaigns, Article & Video Marketing, QR Codes, etc.
Mr. Tucker went on to state, "I am a former brick and mortar business owner myself and I know the frustrations and disappointments that come from spending advertising dollars that leave you with little to show for it. Our sincere goal is to help as many local business owners as possible to succeed with their local business marketing efforts. If you are not online these days, you can rest assured that many of your competitors are. This platform answers all of the business owner's questions about how to do this effectively if they follow our lead. We are both skilled and passionate about what we do, and will work tirelessly to help as many small business owners as possible achieve online marketing success."
Henry Jordan, LLC is located in Upstate South Carolina. For more information on this program, visit ImpromptuBiz.com.
###