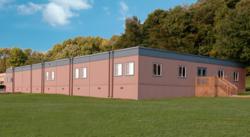 "IMS takes great pride in our ability to assist the Minot Public School District in their recovery efforts" said Patrick Carmody, President of IMS.
Chicago, IL (PRWEB) September 20, 2011
Innovative Modular Solutions (IMS), a leading provider of modular buildings, announced today that the company provided over 60,000 square feet of educational space, a total of 64 classrooms at three different sites, for the Minot Public School District.
In the aftermath of the Minot, North Dakota flooding catastrophe, the district was concerned about how and where to begin the school year if they couldn't find adequate classroom space. IMS responded, working together with the district's construction manager, Kraus-Anderson. The delivery and installation of the modular classroom complexes took place continuously throughout the month of August; so that by September 6, 2011 the district was able to once again welcome students to the start of a new year, only one week later than normal. The devastating flood that struck much of North Dakota displaced roughly 776 students when the Souris River spilled over protective levees, flooding schools, businesses and thousands of homes.
"IMS takes great pride in our ability to assist the Minot Public School District in their recovery efforts" said Patrick Carmody, President of IMS. "Projects of this nature are both intensely demanding and at the same time intensely rewarding. We recognize that an important part of the rebuilding effort is restoring community life to some semblance of normalcy, and that includes getting the community back into a routine and students back into the schools."
Responding to natural disasters is not new to IMS, who, earlier this year, worked with Hunter Modular Construction of Jonesburg, Missouri and the Army Corps of Engineers as part of the rebuilding effort, in the wake of the EF5 tornado that shattered the town of Joplin, Missouri in late May. IMS responded by providing modular classroom complexes in excess of 25,000 square feet, giving Joplin teachers and students twenty-four spacious classrooms for the 2011 school year.
About Modular Buildings
Modular buildings utilize the resource efficient process of factory-built construction, where the initial construction occurs in a controlled manufacturing environment. Partially finished modules are transported to the project site for final completion. Modular buildings can be used for both temporary and permanent applications and are appropriate for a wide variety of uses, including educational campuses, medical facilities, commercial offices and industrial workforce solutions. The advantages include the speed of construction, product flexibility, financing options, and overall cost. Additionally, the modular construction process is inherently green as it offers waste minimization, material efficiency and minimal site disruption. Modular buildings are an excellent solution for emergency response efforts because they can be procured, installed and occupied in a matter of weeks.
About Innovative Modular Solutions
Established in 1999, Innovative Modular Solutions is dedicated to building high quality learning and working environments. IMS' focus on providing their customers with consistent and professional service, has led them to become a leading provider of modular buildings. IMS is a proud member of the Modular Building Institute and the U.S. Green Building Council and is an equal opportunity employer. For the last 12 years IMS has provided high quality, value based building solutions for temporary and permanent use. With a long list of satisfied customers IMS can serve any modular building need.
Innovative Modular Solutions
297 E. South Frontage Rd. Unit B
Bolingbrook, IL 60440
1-800-357-4699
info(at)innovativemodular(dot)com
###