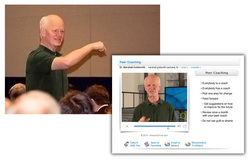 The seamless integration of IMS educational programs and AthenaOnline will help people focus and sustain change on their return to work
Reno, NV (PRWEB) September 29, 2010
The Institute for Management Studies (IMS) announced that it will be working closely with its sister company, AthenaOnline.com, to deliver a more holistic learning approach to its 400 member organizations. The new service is called Leveraged Learning™ or L2.
IMS is a world leader in management development and executive education and conducts monthly full day classroom sessions in six countries and 24 major cities. For over 35 years IMS's live sessions have featured such leading management thinkers as Russell Ackoff, Chris Argyris, Ken Blanchard, Tony Buzan, Ram Charan, Stephen Covey, Marshall Goldsmith, Vijay Govindarajan, Charles Handy, Gordon Hewitt, Elliott Jacques, Harry Levinson, Harold Leavitt, Warren McFarlan, Henry Mintzberg, Roch Parayre, Michael Porter, C. K. Prahalad, James Brian Quinn, Jean-Paul Sallenave, Peter Senge, Peter Schwartz, Fons Trompenaars, William Ury, and countless of other business luminaries.
To add additional value and enable its members and attendees to extend learning beyond the classroom sessions, IMS turned to its sister company AthenaOnline. Athena is a pioneering company in technology based knowledge delivery, having been one of the first companies to develop applications for mobile learning, virtual learning environments and just-in-time learning modules.
As part of this new Leveraged Learning service Athena will provide IMS with a custom portal called IMS QuickCoach along with session and faculty specific landing pages. IMS attendees will have 30 days of free access to video lessons, articles other tools to help bring the knowledge gained during their IMS sessions back into the workplace. Attendees can even share lessons with employees and peers, helping the ideas to become organic and spread throughout the organization.
"We feel strongly that this solution will help the IMS faculty better accomplish their objective of supporting the IMS attendees with the implementation of the ideas they presented during their session" said Jon Peters of AthenaOnline. "It will also help to expose other employees to some of those concepts and ideas."
Dr. Terry Paulson, IMS faculty member states "The seamless integration of IMS educational programs and AthenaOnline will help people focus and sustain change on their return to work."
The IMS Leveraged Learning™ service will begin on January 1st, 2011. For more information please visit the website at ims-online.com or contact IMS at 775-322-8222.
About The Institute for Management Studies:
Founded in 1974, IMS (http://www.ims-online.com) offers full day executive education programs in 24 regions throughout North America, Continental Europe and the United Kingdom to 400 member organizations. Over 15,000 managers attend IMS programs each year. For more information on IMS call 775-322-8222.
About AthenaOnline.com:
AthenaOnline.com (http://www.athenaonline.com) is an award-winning publisher of multimedia training, education and career development products. Athena was founded as a sister company to IMS with a mission to leverage technology to create and deliver business knowledge when and where individuals need it. For more information call 800-500-4294.
Leveraged Learning is a Trademark of the Institute for Management Studies.
"Safe Harbor" Statement Under the Private Securities Litigation Reform Act. The statements in this press release that relate to future plans, events or performance are forward-looking statements that involve risks and uncertainties, including risks associated with uncertainties related to contract cancellations, competitive factors, uncertainties pertaining to customer orders, demand for products and services, development of markets for the Company's products and services and other risks identified in the Company's filings. Actual results, events and performance may differ materially. Readers are cautioned not to place undue reliance on these forward-looking statements, which speak only as of the date hereof. The Company undertakes no obligation to release publicly the result of any revisions to these forward-looking statements that may be made to reflect events or circumstances after the date hereof or to reflect the occurrence of unanticipated events.
###