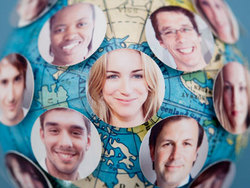 "The time for a revolution has come. A revolution in social networking as it stands today". Kendra Thompson Co-Founder I.M.Space Inc.
Monroeville, PA (PRWEB) March 26, 2011
There are plenty of new Social Networks out there, but very few have withstood the test of time. In an industry that is always changing, new social networks that launch need to be equipped with the latest and newest technologies. I.M.Space has definitely reached those standards that savvy social network users are looking for. With about 200 people joining I.M.Space within its first week of launching, I.M.Space has become a hit. I.M.Space has also just become a member of the Social Network and Media Association. I.M.Space is the latest break in social network technology. Video Chat instant messaging allows users to view other users without ever having to leave your profile. The I.M.Space GO downloadable toolbar allows users to watch TV right from their profiles, as well as check their horoscopes, bid and log into their E bay accounts,or listen to their favorite songs or radio stations. Users can also upload the mp3's and videos of their choice, allowing them to be embedded onto their profile. It does not get any better than this. I.M.Space is taking the world by storm. "The time has come for a revolution a revolution in social networking." Kendra Thompson co creator of I.M.Space.
What are people saying about I.M.Space.
"I.M.Space is a unique and one of a kind social network". -- Co-Creator Shawn Lawrence
"I love I.M.Space because it has so many things for me to do on the site". -- Billy
"I.M.Space is the next best thing since Facebook". -- Javon
# # #