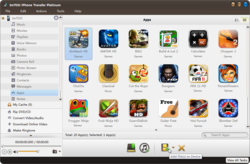 ImTOO iPhone Transfer, the top one to support iOS 6 & iPhone 5, bring more fun to Apple fans.
Los Angeles, California (PRWEB) September 27, 2012
iPhone 5 with iOS 6 is coming now. Are you ready for iPhone 5? Now the good news for all people with iPhone/iPod/iPad is that all of ImTOO manager applications, including ImTOO iPhone Transfer, are now fully support iOS 6 and iPhone 5. Both Windows and Mac are available.
ImTOO iPhone Transfer is integrated and complete solution for all iPhone and iPod, able to transfer, convert, download and create all kind of interesting content for your enjoyment.
The first important function of ImTOO iPhone Transfer is to transfer files between iPhone and PC/iTunes. So users can backup their songs, videos, photos, playlists, eBooks, messages, contacts, etc from iPhone to PC easily, and transfer local contents from PC to iPhone very fast.

Fully supports all iPad/iPod models: iPod Touch, iPod Touch 3, iPod Nano 5G, iPod Nano Chromatic, iPod Classic, iPod Shuffle, iPod Shuffle 4GB, iPod Video, CDMA iPhone 4, iPhone 4S, iPhone 3G, iPhone 3GS, iPhone 4, iPhone 5.
Fully supports iOS 6 and iTunes 10.7.
To enhance iPhone usages much, ImTOO iPhone Transfer can rip DVD and CD discs, convert a large number of video and audio files with different formats like AVI, MPEG, WMV, MKV, MOV, RM, FLV, TS, etc to media files playable on your iPhone 5, even then directly transfer to the device after the conversion.
With amazing video downloading and converting functions, it is easy for users to visit and browse the most popular online video websites in the application, find favorite videos and movies fast, and also play them, one-step download and convert online videos, transfer to iPhone 5 immediately.
Now here is the creation function to make your new iPhone 5 ringtone special. You can make ringtone for your iPhone 5 from lovely music, adding some custom effects to let it most creative.
What's more, ImTOO iPhone Transfer can transfer between several devices simultaneously by connecting multiple of iPods/iPhones. Users are able to share favorite files with friends easily.
More features are also designed to bring practical applicability. The adoption of the ATI-Stream and NVidia-CUDA Graphic Processor Unit acceleration technology brings to video conversion operations with more than 5 times faster speed! Users can create new playlists and photo albums, preview and export of photos and videos shot by iPhone, edit of multiple ID3 tags such as name, artist, album and year, etc.
Free download trial is available for all ImTOO software. Users can just download first to get new and more experiences on iOS 6 devices and iPhone 5.
About ImTOO:
ImTOO is a software company that offers multimedia conversion solutions. For over 8 years, ImTOO has been striving to bring the latest and most innovative software products to enhance people's multimedia life. For more information about ImTOO and its products please visit http://www.imtoo.com