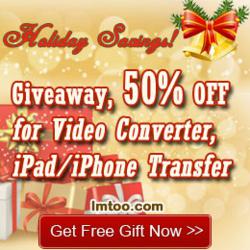 Los Angeles, California (PRWEB) December 20, 2012
For this Christmas, ImTOO will hold a holiday theme activity for users. Consumers can get Christmas gifts from ImTOO in 3 ways: Giveaway for popular product, limited time price $9.95 for top-selling products, and 50% off discount for the mainstream software.
To begin, the giveaway for the ImTOO iPod Computer Transfer is offered as a Christmas gift with no charge.
The ImTOO iPod Computer Transfer is useful software for iPod users. It can transfer music, movies, photos, eBooks, messages, contacts and apps from iPod to computer, computer to iPod, and iPod to iTunes. It also allows customers to connect several iPods and other iOS devices, and manage them simultaneously. It even offers the customers the ability to manage his iPhone as a portable hard disk. All iPod, iPhone models and generations and iTunes versions are supported.
Secondly, ImTOO will provide you with only $9.95 for the salable products like the ImTOO Audio Converter and ImTOO iPad to PC Transfer.
The ImTOO Audio Converter is the only software that music enthusiast will ever need to convert between most audio formats as well as extract audio from most video formats. Audio Converter supports many different audio formats including MP3, WMA, WAV, OGG, AAC, etc.
The ImTOO iPad to PC Transfer totally removes iTunes' restrictions. It is able to transfer videos, music, photos, contacts, messages, eBooks, apps, etc from customer's computer to iPad/iPhone/iPod, as well as backup file from iPad to iTunes/PC.
Finally, 50% off discounts will be provided for the mainstream ImTOO products, such as DVD Ripper, Video Converter, DVD Creator, YouTube Video Converter etc. You could enjoy your multimedia life much more at very acceptable price during this Christmas season.
Visit imtoo.com to get more information about the unforgettable Christmas offers.
About ImTOO:
ImTOO is a software company that offers multimedia conversion solutions. For over 8 years, ImTOO has been striving to bring the latest and most innovative software products to enhance people's multimedia life. For more information about ImTOO and its products please visit http://www.imtoo.com