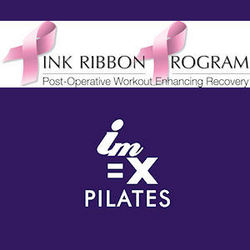 The Pink Ribbon Program helps stretch and strengthen shoulders and arms, enhances energy levels, decreases stress and tension, and promotes overall physical and mental well-being after breast cancer surgery
Atlantic Highlands, NJ (PRWEB) September 22, 2010
The Pink Ribbon Program is an internationally recognized Pilates-based Recovery Program developed by a survivor for survivors to help women regain mobility and improve quality of life. The exercise program helps stretch and strengthen the shoulder, chest, back, and abdominal muscles, increasing range of motion in those areas affected by breast cancer surgery. The IM=X Pilates Studio in Atlantic Highlands NJ is the first location in Monmouth county to introduce the Pink Ribbon Program.
The Pink Ribbon Program was created by Doreen Puglisi, M.S., an exercise physiologist and educator who is also a breast cancer survivor. When Doreen began working with breast cancer survivors as a pilates instructor and exercise physiologist, she was stunned to discover that survivors were discharged following mastectomy and other surgeries without a plan for either physical therapy or rehabilitation. Doreen set out to develop a program to help her clients achieve their best possible recovery based on her own experience and recovery as a breast cancer survivor.
The Pink Ribbon Program is currently being utilized in NJ at the outpatient rehab department at University Medical Center in Princeton, as well as Community Medical Center, Oncology Department in Toms River, NJ. The IM=X Pilates Atlantic Highlands Studio is the only location in Monmouth County that offers the Pink Ribbon Program. Lisa Glavan and Kristin Szlepcsik went to an intensive training course that included lectures on surgeries and their implications for exercise, adjuvant treatments, and lymphedema. The lab trainings focused on exercise protocols with an emphasis on shoulder range of motion, core stability, and scapula stabilization. Lisa and Kristin were also required to develop comprehensive rehabilitation programs for various case studies using a pilates-based approach including movement sequencing specific for the breast cancer survivor.
Both Lisa and Kristin have worked with clients who are breast cancer survivors and seen the tremendous benefits of pilates inspired exercises. "The Pink Ribbon Program helps stretch and strengthen shoulders and arms, enhances energy levels, decreases stress and tension, and promotes overall physical and mental well-being after breast cancer surgery" says Lisa Glavan, an Advanced Certified Instructor at IM=X Pilates Atlantic Highlands. This program is suitable whether a surgery was recent or several years ago and accommodates all fitness levels.
To learn more about Pink Ribbon Program at IM=X Pilates Studio in Atlantic Highlands or to schedule a free consultation and intro session, please contact Lisa Glavan at 732-872-1442.
About IM=X Pilates, Atlantic Highlands:
IM=X Pilates Atlantic Highlands is a contemporary style pilates studio that offers small group fusion pilates classes 6 days a week incorporating the reformer, ballet bar, mat, tower, and stick exercises. The studio also offers private training with a focus on prenatal and postnatal pilates, pilates for golfers, a back care program, and postoperative rehabilitative exercise for breast cancer survivors. The studio is in its fifth year of operations. To schedule a free one-on-one private intro session, or to try a free class call 732-872-1442 or visit http://www.imxpilatesnj.com.
###