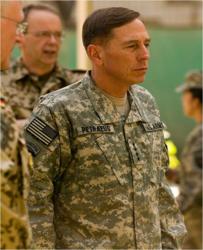 "Getting mired in a lawsuit can happen to anyone, and it is certainly true that even those with perceived wealth can run into trouble and exacerbate the problem in order to keep up appearances." -David Chang
Chicago, IL (PRWEB) November 20, 2012
The convoluted details surrounding the extramarital affair that led retired U.S. General David Petraeus to lose his position as C.I.A. Director have taken an even stranger turn. Recently it has been reported that Jill Kelley, the Florida socialite who is at the heart of the Petraeus affair, is in debt and mired in a lawsuit worth almost $4 million.
The scandal was triggered in May of 2012 when Jill Kelley, Petraeus' acquaintance, complained to an FBI investigator of being sent allegedly "jealous" and harassing emails by an anonymous woman.
The anonymous woman was later identified as Paula Broadwell, whom investigators discovered had been having an affair with Petraeus while penning the now best-selling book, 'All In: The Education of General Petraeus'. Mrs. Broadwell apparently suspected that Kelley was romantically involved with Petraeus as well.
Kelley's complaint set off a chain of events that revealed the extramarital affair, ultimately leading to Petraeus' resignation from his powerful post as C.I.A. Director on November 9, 2012 due to the scandal.
In addition to the connection with Petraeus and his mistress, Jill Kelley has also been linked to General John Allen, Petraeus' successor as top commander in Afghanistan. In fact, General Allen's promotion for the post of Supreme Allied Commander Europe has been delayed, according to the New York Times, as Allen is being investigated for "inappropriate communication" with Kelley.
Kelley In a Lawsuit While Schmoozing with U.S. Military's Elite
The scandal has upended the lives of all those involved, but in addition to dealing with this very public drama, Mrs. Kelley has been dealing with personal financial issues as well. These financial problems are reportedly related to debts and credit card bills stemming from the lavish lifestyle that 37 year-old Kelley enjoyed despite ever-increasing debt.
According to a recent Business Insider article, Kelley and her husband Scott held lavish parties for Petraeus and other military elite at their Tampa mansion. However, they "…were soon being sued for $1.9 million by Central Bank after allegedly failing to keep up with mortgage payments on a house they bought after starting their own property company. A similar $1.8 million property lawsuit from Regions Bank followed soon after."
David Chang of Chang and Carlin, LLP explains how easily a financial meltdown can happen, even when a person has the appearance of wealth: "Getting mired in a lawsuit can happen to anyone, and it is certainly true that even those with perceived wealth can run into trouble and exacerbate the problem in order to keep up appearances."
While Mrs. Kelley's struggles with debt are on the extreme end of the spectrum, they are by no means unusual. Bankruptcy has been on the rise in the U.S. since the financial crisis struck in 2008, making mortgages, student loans, long-term leases, and credit card debt extraordinarily difficult to pay off. This has led to challenges such as bankruptcy and foreclosure for many.
Even without a massive public scandal to deal with, addressing these issues with debt can be very difficult. Anyone looking to find a solution to their financial struggles should consult with a legal expert as soon as possible.
About Chang and Carlin, LLP
The attorneys at Chang and Carlin, LLP provide Chapter 7 and Chapter 13 bankruptcy filings, real estate services, and IRS tax help. For any bankruptcy and real estate legal needs, Chang & Carlin, LLP will provide the necessary legal experience and personal service that clients deserve.