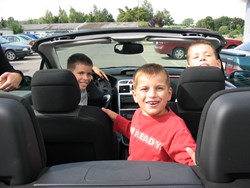 This is part of our continued commitment to offer our shoppers more than just the ability to compare car insurance quotes
(PRWEB UK) 16 July 2012
The summer holidays are a popular time for car journeys with the family. Trips to see friends and relatives, or holidays and days out often involve taking the car. These trips can be long journeys on slow roads often in high temperatures - a combination which can sometimes lead to frayed tempers and bored children! With this in mind, popular car insurance comparison site Tiger.co.uk has re-launched its successful guide to in-car entertainment which was published for the first time last year.
These days many parents will have invested in gadgets such as hand held games, portable DVD players and mp3 players to keep their children entertained, but gadgets such as these might not always be enough. The Tiger.co.uk guide to in-car entertainment has been designed with children in mind to help when batteries run out or attention spans are short. The free guide includes rules to a number of popular word games as well as a word search, colouring pictures, a maze and some in-car bingo cards that can be printed out and taken along on the journey.
Andrew Goulborn, Commercial Director for popular car insurance site Tiger.co.uk commented:
"Following the success of our guide to in-car entertainment last year we thought we would bring it all up-to-date for 2012. This is part of our continued commitment to offer our shoppers more than just the ability to compare car insurance quotes. Along with our specialist guides and "Ask The Tiger" FAQs which aim to provide useful, factual information to drivers, we also acknowledge that there is a fun element to motoring and there will be plenty of parents out there looking for something to keep the children occupied over the summer holidays. Visitors to the site can access all of this under the '"Info" area of the site, which is linked at the top right of the homepage."
About http://www.tiger.co.uk:
Tiger.co.uk is a trading name of Call Connection Ltd. Tiger.co.uk is a UK based, independent car insurance comparison site, offering insurance quotes from over 150 motor insurance brands. Call Connection Ltd is authorised and regulated by the Financial Services Authority (number 308374).