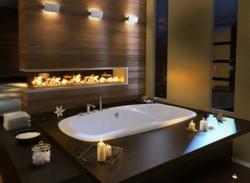 All drop in tubs can double as in floor tubs, the reinforcement and framing that would typically be above floor, have to be built underneath it, so the lip of the tub rests evenly at floor level.
(PRWEB) November 06, 2012
HomeThangs.com – the Home Improvement Super Store has made their goal to deliver the right product to the consumer, with that in mind, shopping and home design tips, as well as special product selections are being introduced.
In floor tubs is the design that is not seen often. These are regular drop in tubs that, instead of being installed in a frame, mount, or deck, are installed directly into the floor, so one can step down into the tub from floor level. HomeThangs introduced a few tips and suggestions on how to create a beautiful, unusual, spa-like look that will add a major wow factor to the bathroom with in floor tubs.
1. For example, Ambrosia Tub from MAAX – the tub itself might not be anything life changing – it's a simple, egg-shaped whirlpool with a slim rolled rim. But with in-floor installation, it has a totally different look. It offers a natural, slightly Asian-inspired vibe, with beautiful wood flooring and a panoramic view of nature.
2. At their heart, in floor tubs are really just drop-in tubs, but rather than having a large above-floor mount (which are often as obtrusive, and which might not always look so great in the center of the room), in floor tubs sit either just on top of or right at floor level. This creates a seamless, open, uncluttered look that one can't get from any other kind of bathtub. Even decorative freestanding tubs "intrude" into the center of the bathroom, shrinking the space – especially if there's lots of visible plumbing.
3. With in floor tubs, the whole bathroom stays open, allowing having a much larger tub without making the bathroom look crowded. Better still, even though they sit perfectly even with the floor, in floor tubs are an excellent showcase piece for the center of the room – immediately eye-catching without taking up any space at all. Something like the Sok Infinity Tub from Kohler can help turn an ordinary bathroom into something with a rich, lagoon-like atmosphere, or even a poolside spa vibe. A ceiling-mount tub filler looks especially good with in floor tubs, as it creates a beautiful waterfall/cascade effect.
4. Overflow or infinity tubs can also be used as in floor tubs. Infinity tubs designed to fill all the way up to the rim and then some, literally overflowing over the edge of the tub and into a rim on the outer edge of the tub. This allows the deepest soaking possible, and a spectacular overflowing waterfall sensation that's one part beautiful, one part nature-inspired, and one part unprecedented childhood wish fulfillment. Something like the Purist Tub from Kohler is sleek, sophisticated, and highly designed – a very nice bonus for an in-floor tub as one never has to worry about spillage.
5. In floor tubs are harder to install. Since the tub is installed into the floor, a bathtub-sized chunk of the floor needs to go – as in, power tools and sledge hammers. Then a hefty support frame inside the hole has to be built is order to support the tub. This is a lot more invasive and messy than just plopping in a shower wall, and depending on how much open space is available below the floor (and the local building codes, which should be the first thing to look at), something like the Beverly Vista Tub from Americh might not be viable at all.
6. That said, if the space allows, the permits received, with a lot of DIY experience (or a good friend who happens to be a plumber or contractor), in floor tubs are only slightly more complicated than an average drop in. Plus, even a slight, step-size mount can create a grand, regal appearance without taking up too much space.
7. All drop in tubs can double as in floor tubs, the reinforcement and framing that would typically be above floor, have to be built underneath it, so the lip of the tub rests evenly at floor level. So while many drop in tubs are pictured in more conventional above-ground installations, one shouldn't assume that that's how they have to be installed. Especially in a very large scale renovation where one might be ripping out sections of the floor to reroute plumbing anyway, in floor tubs are a lot more doable, since there isn't as much existing finished bathroom to work around.
HomeThangs.com is not only a home improvement superstore, it also provides expert design tips and a comprehensive shopping guide, taking the ideas from professional interior designers, and offering tips to the consumers on how to pick the products to best suit their needs.