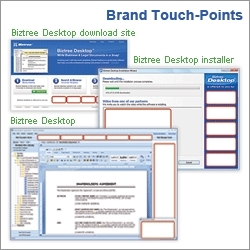 And what's great is that our advertisers were reporting stronger click-through rates and conversions than in traditional web campaigns.
Montreal, Quebec (PRWEB) October 30, 2008
Biztree, the top provider of document templates software, is breaking new grounds with an innovative in-software advertising solution aimed at agencies and large advertisers.
The marketing dilemma is not new. How can web marketers effectively target the SMB market? Biztree believes it found the answer - or a least one possible solution. Unveiled at ad:tech New York in November, Biztree Connect is a new in-software advertising solution that allows advertisers to reach business people in an unprecedented way.
"Online consumers have become desensitized to the common web banner," explains Co-President Jonathan Defoy. "As long-time web marketers, it became clear to us that the future of advertising lies in creating positive user experiences where brand messages are favorably received."
The positive user experience he is referring to originates from Biztree Desktop, a popular productivity software, which the company plans to distribute for free in early 2009. "After selling Biztree Desktop [at $249.95] for seven years, we came to realize that a huge opportunity exists in the free software model. Where we can give Biztree Desktop for free thanks to in-software advertisements."
Biztree began testing its ad solution in a free version of Biztree Desktop in early 2008. "Installation rates immediately took off," recalls Co-President, Bruno Goulet. "And what's great is that our advertisers were reporting stronger click-through rates and conversions than in traditional web campaigns."
The shift from a paid to free software model is key to Biztree's offer and very much in synch with today's web culture where people have become accustomed to using free software or web services to perform common tasks such as long distance communication, pic sharing, document collaboration, and social networking.
Biztree is keen on informing advertisers that "Biztree Desktop is your brand vehicle," explaining that a happy and more productive user is much more likely to develop a favorable opinion of the advertiser's brand. Judging from the download site's testimonials section, Biztree seems to have no problem satisfying their users. Will the same be said of Biztree Connect? We'll soon find out.
About Biztree
Since 2001, Biztree has been increasing the productivity of business people in over 200 countries. Our flagship product, Biztree Desktop is a business document templates software that provides over 1,500 templates of essential contracts, agreements, letters, board resolutions, financial spreadsheets, plans, proposals, press releases, policies and checklists, allowing people to write documents in a snap, thus saving valuable time, effort and money.
Today, we have introduced Biztree Connect, an in-software advertising solution that allows agencies and large advertisers to connect with business people through a powerful direct-to-desktop ad channel.
Contact:
Marc Berouti / Marketing Director
Biztree Inc.
555 Rene-Levesque Blvd. W., Suite 1500
Montreal, QC H2Z 1B1
Canada
1.866.999.3311 ext. 221
514.768.3311 ext. 221
connect.biztree.com
# # #