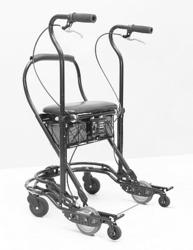 The U-Step 2 is, without a doubt, the finest walker on the market for fall prevention.
(PRWEB) April 18, 2012
In-Step Mobility, a pioneer in mobility aids, introduces the U-Step 2 Walking Stabilizer, an advanced walker designed for individuals with severe walking challenges resulting from neurological conditions. Combining an ultra stable base with advanced control and maneuverability features, the U-Step 2 eliminates falls and enables people to improve their quality of life through increased independence and mobility.
Regularly prescribed by physicians and physical and occupational therapists from leading hospitals and rehabilitation centers, the U-Step has been tested and proven to be beneficial for individuals with various neurological conditions, including Parkinson's Disease, Multiple Sclerosis, Muscular Dystrophy, Ataxia, Stroke, Brain Injuries, ALS and PSP.
"I conduct educational seminars for physical and occupational therapists and others in the medical field who treat patients with Parkinson's Disease and related movement disorders," said Dorian Brown, MA, OTR/L, Parkinson's Rehabilitation Specialist, National Educator and Consultant. "The U-Step 2 is, without a doubt, the finest walker on the market for fall prevention, and for improving gait and ambulation, postural stability, strength and endurance due to the stable design which helps patients ambulate for longer distances."
The leading-edge capabilities of the U-Step 2 make it far superior to other walkers by providing more stability, maneuverability and control.
The U-Step 2's patented U-shaped base is ultra-stable since it surrounds and braces the individual in every direction from falling. The spring-loaded front wheel and 4-inch non-marking casters help the individual safely go up outdoor curbs and walk on rough and uneven surfaces. With a turning radius of only 29", almost half that of competing walkers, the U-Step 2 can be readily used in tight indoor areas such as bathrooms, kitchens and hallways. The U-Step 2's braking system ensures the walker will not roll until the individual lightly squeezes either the left or right hand brake. The rolling resistance control can be pre-set to put a drag on the unit for increased control.
The U-Step 2 also offers as an option the industry's only cueing system to modulate gait patterns. Primarily used by those with Parkinson's "freezing" but applicable to anyone with an irregular gait pattern, the Laser and Sound Cueing Module helps the individual get started, normalizes his walking and increases his stride. Pressing the red button on the module projects a bright red laser line on the floor to guide the individual's step. The sound feature sets a beat pattern for walking speed.
"My mother's neurological condition affected her walking to the point of requiring a walking aid. She tried a standard walker, but it hindered her walking, and more importantly did not prevent her from falling," said Jonathan Miller, Founder of In-Step Mobility. "I could not accept my mother losing her independence at age sixty, due to a muscular dystrophy. I was determined to create a better walking aid, with the result being the U-Step."
The U-Step 2 is typically reimbursed by Medicare and private insurance companies at a high rate and is the only neurological walker recognized by Medicare (HCPC Code E0147).
The U-Step 2 Walking Stabilizer is available today with an MSRP of $600. The optional Laser and Sound Cueing Module has an MSRP of $250.
In-Step Mobility will be exhibiting the U-Step 2 (Booth #1108) at the American Academy of Neurology (AAN) Annual Meeting in New Orleans, April 23-26, 2012.
For more information about In-Step Mobility and the U-Step 2 Walking Stabilizer:
Website: http://www.UStep.com
Facebook: http://www.facebook.com/InStepMobility
Twitter: @InStep_Mobility