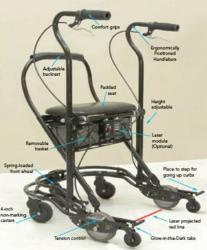 "I felt it important that the company make this commitment to the universities so that they could provide their students hands-on experience with the U-Step 2 Walker." Jonathan Miller, Founder of In-Step Mobility
Skokie, IL (PRWEB) January 23, 2013
In-Step Mobility, an innovator in mobility aids, introduces U-Step University, a new program whereby the company collaborates with leading Physical Therapy and Occupational Therapy programs across the United States by offering samples of its new U-Step 2 Walker to help train students both in the classroom and clinic environments.
"Students should be exposed to a wide variety of mobility aids as part of their education," said Jonathan Miller, Founder of In-Step Mobility. "Since the U-Step 2 Walker is the leading advanced walker designed for individuals with severe walking challenges resulting from neurological conditions, I felt it important that the company make this commitment to the universities so that they could provide their students hands-on experience with the U-Step 2 Walker."
Regularly prescribed by physicians and physical and occupational therapists from leading hospitals and rehabilitation centers, the U-Step 2 Walker has been tested and proven to be beneficial for individuals with various neurological conditions, including Parkinson's Disease, Multiple Sclerosis, Muscular Dystrophy, Ataxia, Stroke, Brain Injuries, ALS and PSP.
The leading-edge capabilities of the U-Step 2 Walker make it far superior to other walkers by providing more stability, maneuverability and control. The U-Step 2 Walker eliminates falls and enables people to improve their quality of life through increased independence and mobility.
The U-Step 2 Walker's patented U-shaped base is ultra-stable since it surrounds and braces the individual in every direction from falling. The spring-loaded front wheel and 4-inch non-marking casters help the individual safely go up outdoor curbs and walk on rough and uneven surfaces. With a turning radius of only 29", almost half that of competing walkers, the U-Step 2 Walker can be readily used in tight indoor areas such as bathrooms, kitchens and hallways. The U-Step 2 Walker's braking system ensures the walker will not roll until the individual lightly squeezes either the left or right hand brake. The rolling resistance control can be pre-set to put a drag on the unit for increased control.
The U-Step 2 Walker also offers as an option the industry's only cueing system to modulate gait patterns. Primarily used by those with Parkinson's "freezing" but applicable to anyone with an irregular gait pattern, the Laser and Sound Cueing Module helps the individual get started, normalizes his walking and increases his stride. Pressing the red button on the module projects a bright red laser line on the floor to guide the individual's step. The sound feature sets a beat pattern for walking speed.
Universities interested in participating in the U-Step University program should contact Mitch Strobin at mstrobin(at)ustep(dot)com or (919) 960-3581.
In-Step Mobility will be exhibiting the U-Step 2 Walker (Booth #1438) at the Combined Sections Meeting in San Diego, January 22-24, 2013.
For more information about In-Step Mobility and the U-Step 2 Walker:
Website: http://www.ustep.com
Facebook: http://www.facebook.com/UstepWalker
Twitter: http://www.twitter.com/UstepWalker