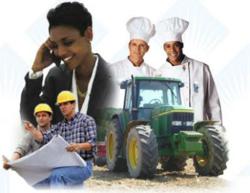 America's small businesses drive job creation and economic growth.
Boca Raton, FL (PRWEB) June 10, 2013
America's economy has proved resilient in the years since the recession began with the collapse of the housing market in 2008. Consumers and small businesses in small towns and large cities across the United States have felt the impact of this prolonged economic downturn. Though the economy has marginally grown and employers have added jobs for years, many small businesses from coast to coast struggle with weak consumer demand, and many workers struggle to get by with reduced hours and opportunities for work. Still, in cities and towns across the country, positive economic stories serve as beacons of hope and progress in the darkness of this downturn. The television program In View hosted by Larry King spotlights such stories, looking at companies and small businesses across the country that have managed to succeed and grow. The show's producers have announced that they will travel to Glenwood, Minn. later this week for a shoot about business. The show's team will visit this small town on the northeastern shore of Lake Minnewaska, about 120 miles northwest of Minneapolis, on Friday, June 14th.
The In View series hosted by Larry King explores a wide assortment of subjects across American life. The producers and associate producers of the In View TV series look for intriguing economic stories, business stories, education stories, health stories, technology stories, environmental stories and more. The television program spotlights medical facilities, universities, schools, colleges, companies, health care professionals and others across the U.S. and Canada.
The In View series concentrates on encouraging developments and anecdotes across society.