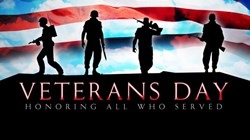 We were happy to present the episode about veterans on Veterans Day, to honor those who have served our country - an In View series producer.
Boca Raton, FL (PRWEB) November 15, 2013
Earlier this week, an episode of the In View series (561-279-3550) aired on the Discovery Channel. The episode, which ran on Monday morning, Veterans Day, focused on veterans and military families. Yesterday, the production team of this informative cable television program uploaded the entire episode to the In View show's official YouTube channel, where Internet users around the world can watch and review the show's diverse programming. Visit the In View Series official website to find out when the show will next air.
The In View TV series (855-446-8439) presents interesting stories from across the United States and Canada, and reaches television households across the nation, thanks to the efforts of its dedicated and creative production team. Show producers like associate producer Brian Cahill, associate producer Courtney Lovejoy, associate producer Judi Marcus, associate producer Seth Goldberg and associate producer Derrick Milhous discover stories of innovation, charity, achievement and advancement all across American society. They speak with business leaders, municipal leaders, elected officials across the country as they search for stories to feature on the program. The show's producers also solicit input from fans and viewers on social media in the program's official website. People can connect with show producers like associate producer Rachel Van Drake and associate producer David Kent on Facebook. They can also follow the In View Series on Twitter.
Submit your programming ideas at the official website of In View hosted by Larry King, http://www.inviewseries.com, and follow this cable television program on social media to keep up with show news. The show's producers, including senior associate producer Joel Walters, associate producer Diane Shandler, associate producer John Patrick and associate producer Karla Sullivan, review fan submissions, and turn some of the best ones into episodes of the In View series hosted by Larry King.