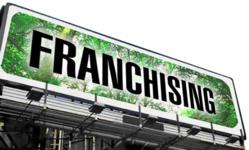 I truly appreciate the support that my franchisor provides.
Boca Raton, FL (PRWEB) February 14, 2013
Every year, increasing numbers of people realize their dreams of business ownership by purchasing franchises. Hundreds of thousands of American entrepreneurs have opened franchises of established companies, becoming their own bosses. The producers of the In View with Larry King television series have announced plans to explore this growing nationwide business trend in an upcoming series. The In View TV series (http://www.inviewseries.com) will look at franchise opportunities in many industries, including the restaurant industry, the printing and shipping industry, the sign industry and other industries.
The In View series Larry King will look at how everyday Americans have made their dreams of working for themselves come true by purchasing franchises. An In View with Larry King producer will speak with franchise owners across the country about the benefits and challenges of owning and operating a franchise. Producers of the In View Larry King show will also speak with parent companies and find out more about the relationship between franchisees and franchisors. The Larry King In View show (561-544-7965) will inform viewers about the support that franchisors offer to franchisees. Franchisors help franchisees when they open their businesses, and also offer advice and support for technical issues and ways to generate business.
The In View series (855-446-8439) is an educational TV series dedicated to topics, issues and trends that affect consumers, businesses and families across the United States. The Larry King TV show is carried by cable TV outlets across the United States, including regional cable networks and cable channels like the Discovery Channel.