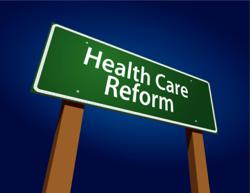 This In View series will offer an unbiased look at health care reform. - The In View with Larry King production team
Boca Raton, FL (PRWEB) January 31, 2013
Health care reform - a contentious issue, at best – has ruffled many people's feathers since the Affordable Care Act was passed in 2010. Many people believe that its passage represents a government infringement upon the private marketplace. With President Barack Obama's re-election in November, the bill will not be repealed and will be fully implemented. With changes coming in health care, and some already taking place, the In View with Larry King television program will examine how health care reform will change America's health care system in an upcoming series. This in-depth series will feature interviews with multiple interested parties, including health insurance companies, patients and health care providers.
The In View TV series (http://www.inviewseries.com) will address multiple aspects of health care reform from a non-partisan viewpoint, in an effort to give TV audiences unbiased information about this legislation which will impact millions of people's lives. The In View Larry King (855-446-8439) show will get insights from patients, doctors, hospital administrators and others who will feel the effects of this legislation, which will greatly expand the number of Americans covered by health insurance. An In View with Larry King producer will conduct interviews with various parties to learn how the legislation has already impacted health care in America, and find out what changes can be expected in the near future.
The In View series Larry King (561-544-7965) airs on numerous cable channels and cable television outlets across the country, informing viewers about many subjects. Featuring host Larry King, the In View series offer in-depth looks at trends, stories and developments that affect businesses, consumers and families nationwide. Larry King In View takes on business trends, environmental subjects, lifestyles topics and more. The Larry King TV show provides viewers with useful and enlightening programming.