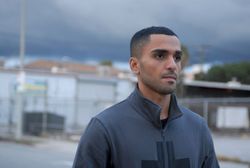 Peer-driven education is one of the most effective tools in changing behavior
Los Angeles, CA (PRWEB) February 27, 2009
The boys are back! The L.A. Gay & Lesbian Center's online soap opera, In the Moment, returns with four new "webisodes" following the lives of several young gay men living in West Hollywood as they face difficult decisions about relationships, politics, drugs and sex. This season, which features a cameo by Darryl Stephens of Noah's Arc, includes up-to-the-moment topics such as Prop 8.
Episode three opens right after the election, as each of the guys reacts differently to the passage of Prop 8. Carlos and Ricky join Shawn at a massive protest rally. How will losing the right to marry affect their lives? Edgar looks to the Internet for guys to hook up with. Is his partying going to catch up with him? Mike wonders if he made a mistake breaking up with his boyfriend. Is it time to move on?
From hooking up online to maintaining monogamous relationships, these new webisodes continue to probe the real issues that are relevant to young gay men. Tens of thousands of people viewed the first two webisodes, engaging in online discussions about In the Moment and how it reflects their lives.
By blending the appeal of a sexy digital soap with cutting-edge social media elements, In the Moment promotes safer sex in a way that is more entertaining, interactive and accessible than traditional prevention programs.
"Peer-driven education is one of the most effective tools in changing behavior," said Susan Cohen, director of the Center's Health Education and Prevention Department. "In the Moment breaks new ground by reaching the You Tube generation with videos created by other young people."
The new webisodes arrive amidst growing concerns regarding the rising HIV-infection rate among our nation's youth. New York City health officials recently reported that new HIV infections among young gay and bisexual men have risen 32 percent in recent years, in contrast to an overall drop for men older than 30.
"More and more young people are watching video content online, and more and more young gay guys describe meeting people on the web for dating and sex," says independent filmmaker Dave O'Brien, 31, who wrote, directed and co-developed In the Moment. "We had to create something that would tap into that, and do it in a way that wasn't about shaming people for their behavior. We wanted to create something that was about starting a conversation...bringing all of us together to help stop the spread of HIV."
The site also provides links to community resources, including information about where to get tested for HIV. The new episodes were funded by a grant from the city of West Hollywood, which has supported the series since its inception.
The four new webisodes will be released throughout the spring, starting with Episode 3, which is live now. In between each webisode, visitors to http://www.InTheMoment.tv will find a steady stream of behind-the-scenes videos, cast interviews and wide-ranging discussions in the online forums.
About the L.A. Gay & Lesbian Center
Since 1971 the L.A. Gay & Lesbian Center has been building the health, advocating for the rights and enriching the lives of lesbian, gay, bisexual and transgender people. Our wide array of services and programs includes: free HIV/AIDS care and medications for those most in need; housing, food, clothing and support for homeless LGBT youth; low-cost counseling and addiction-recovery services; essential services for LGBT-parented families and seniors; legal services; health education and HIV prevention programs; transgender services; cultural arts and much more. Visit us on the Web at: http://www.lagaycenter.org.
# # #