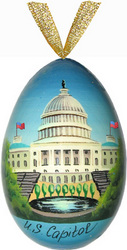 With the start of a new presidential term and the beginning of a new era of change, this Inaugural Ornament makes a particularly fitting souvenir for the presidential inauguration or a special gift for enthusiastic Obama supporters
New York, NY (PRWEB) December 17, 2008
In commemoration of the Presidential Inauguration of Barack Obama on January 20, 2009 a hand-painted collector's edition Christmas ornament is now available by Sterling Pear, a seller of sophisticated holiday decorating products.
The Presidential Inaugural Ornament Collection by Sterling Pear comes in two ornament designs, one ornament depicting the White House and the other depicting the U.S. Capitol, the location of the U.S. Presidential Inauguration swearing in ceremony. On the back side of each ornament is the hand-painted inscription, "Barack Obama - Presidential Inauguration - January 20, 2009."
These distinctive collectible ornaments are only 2.8 inches tall and painstakingly hand-painted by artisans in St. Petersburg, Russia, which is known worldwide for its miniature artworks such as Fabergé eggs.
The artists use only traditional methods in creating these unique pieces. The construction of these ornaments begins with whole, natural timber, the same lightweight wood used for Russian nesting dolls. When making the ornament, the wood is first cut carefully into its egg shape and then sanded to smooth the edges. Then, the artist paints the design directly onto the ornament surface in layers, and allows each layer to dry. Only the painters' hands, brushes and paints are used to create the intricate detailing. Artists do not use stencils, imprints, or ready photos of any kind. Finally, the ornament is lacquered three times by hand to protect, and to enhance the colors.
Every consideration was made to ensure the ornaments will endure for generations to come. By making it from lightweight wood instead of glass, these ornaments are shatterproof. In addition, both the paint and the varnish used by the artists are specifically formulated to avoid cracks, reactions and deterioration over time.
The traditional egg shape has been a symbolic gift in Russia and Eastern Europe for over two thousand years, predating the arrival of Christianity. Eggs represent renewal, new life, and the miracle of life. Therefore, it is not uncommon to give and receive decorated eggs on occasions throughout the year, not just at Easter.
"With the start of a new presidential term and the beginning of a new era of change, this Inaugural Ornament makes a particularly fitting souvenir for the presidential inauguration or a special gift for enthusiastic Obama supporters," said Janet Hayden, Co-founder and CEO of Sterling Pear.
Not only do these ornaments make a great inaugural souvenir, the ornaments can be used for holiday decorations or even displayed year round. Beyond Christmas, the inaugural ornaments can also be hung on an Easter tree or can be used as Easter decorations in a pretty Easter basket display. In addition, the flat bottom of the Inaugural ornament allows it to stand on a flat surface such as a table, shelf, or curio cabinet for year-round display.
The Presidential Inaugural Ornaments are available for purchase by consumers at sterlingpear.com.
The Presidential Inaugural Ornament Collection is a part of Sterling Pear's unique line of elegant holiday decorating products, including its stylish ornament storage boxes. Sterling Pear is known for its sophisticated design, which is encompassed in Sterling Pear's slogan, "Holiday Elegance Made Simple."
Sterling Pear is a women-owned business based in New York City.
###