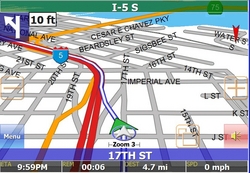 Irvine, CA (PRWEB) November 10, 2010
iNav Corporation (http://www.inavcorp.com) will soon be releasing a new retail version of its popular navigation software, iGuidance 2011 Laptop & Netbook/Car PC edition which will hit the market mid November and presale event begins on Nov 10. Starting this year, customers now have the flexibility of downloading the software online and thus save time and shipping cost. Further, version 2011 provides simplified installation and combines program loading and map data generation into single step process, and it also includes 2010 Q3 digital map from Navteq Corporation, a leader in digital mapping industry.
iGuidance offers many useful features such as text-to-speech for street name announcement, destination side guidance, pedestrian route option, 3D realistic junction/exchange view and expanded safety features including fog alert, school zone, headlight, and fatigue alerts. And given the increasing popularity of Netbooks and Tablet PCs, iNav has enhanced iGuidance's graphic user interface to accommodate smoother touch screen maneuvering, virtual com port selection, and keyboard-less menu input. As for corporate and government agency volume licensing orders, iNav Corporation continues to provide customized solution tailored per each client's request. iGuidance provides its navigation application to city and county level police departments, fire squads, paramedic units, fortune 500 enterprises, and utility companies, etc. Customizable features range from different language user interface and voice guidance, external POI/customer list importation, route list extrapolation, and real time central dispatch route communication to name a few.
About iNav Corporation
iNav is a distributor of iGuidance GPS navigation software with office in Irvine, Calif. iGuidance was first introduced in 2003. It has been nominated as the Best GPS Software w/ Voice Guidance by PocketPC Magazine multiple times, recommended by NY Times, and is one of the most popular navigation software for laptops and mobile PCs.
For additional information please contact:
Sales: sales(at)inavcorp(dot)com
Media: victoria(at)inavcorp(dot)com
Additional announcements: http://inavcorp.com/gps-software-news/
To add iGuidance RSS feed to your PC: http://inavcorp.com/gps-software-news/wp-feed.php
P 714.442.2555
F 714.442.2524
###