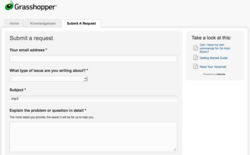 In the first week after implementing Inbenta's dynamic FAQs on our "Submit a Request" page, we measured a 22.91% deflection rate for Emails/Tickets
Sunnyvale, CA (PRWEB) December 04, 2012
Inbenta, a provider of Natural Language Processing technologies and Semantic Search, today announced that Grasshopper was able to reduce the number of oncoming e-mails by using Inbenta Semantic Search on their Customer Support portal. Grasshopper customers are now able to find more of the answers they're looking for without submitting a ticket to their support team.
The Grasshopper virtual phone system helps entrepreneurs sound professional and stay connected from anywhere. With a toll free or local number and features including unlimited extensions, professional greeting and a dial by name directory, Grasshopper helps small businesses sound like a Fortune 500 company.
Grasshopper uses Zendesk, a cloud-based help desk software provider, to provide support to their customers and to maintain their extensive knowledgebase.
Inbenta dramatically improves the way Grasshopper customers can find information in their knowledgebase using an innovative Natural Language Processing technology.
Inbenta's "Instant Email" functionality, available as a Zendesk Integration, dynamically retrieves relevant articles and FAQs while the users type their e-mails, without disturbing or altering their user experience. As users are provided with relevant information as they type an e-mail, they don't have to send their email and wait for a response.
As Allison Canty, Social Media and Community Manager at Grasshopper, says:
"We saw results almost immediately after implementing Inbenta on our Zendesk powered support site. In the first two months alone, the percentage of unanswered questions went down, from 21.83% to 8.29% and our click-through ratio increased by 34.4%.
"In the first week after implementing Inbenta's dynamic FAQs on our "Submit a Request" page, we measured a 22.91% deflection rate for Emails/Tickets,
"With Inbenta's help, we were able to identify topics we were lacking in content and create it, based on Inbenta's suggestions, which helped us greatly improve our online Customer Service. Our customers are now getting more relevant answers to their questions, faster and without submitting a support ticket. It's a win-win for everyone!"
About Grasshopper
Founded by Siamak Taghaddos and David Hauser, Grasshopper, a Massachusetts based company, has been empowering entrepreneurs to start and grow their businesses since 2003. The Grasshopper virtual phone system helps entrepreneurs sound more professional and stay connected from anywhere. Grasshopper works just like a traditional phone system, but is managed all online and in the cloud so there's no hardware to purchase and no software to install.
http://www.grasshopper.com
Contact name: Taylor Aldredge
Phone Number: 800-820-8210 x721
About Inbenta
Based in Barcelona, Spain and Sunnyvale, CA, Inbenta is a leading company specialized in Natural Language Processing and Semantic Search. Since its creation, Inbenta has put a lot of effort into developing skills in computational linguistics, web technologies, customer service solutions and online marketing strategies. It was through these four key competencies that their offer of services and solutions evolved over time to meet the main expectations of high volume B2C websites and large Intranets. Inbenta currently powers more than 50 large-scale Client environments in multiple languages and is expanding its business internationally.
http://www.inbenta.com
Contact name: Jordi Torras
Phone number: 408-480-2599