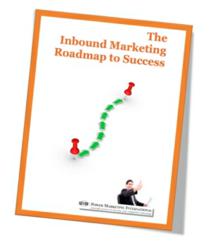 This new eBook explains inbound marketing and provides a clear road map of the key steps needed to succeed
Reading, PA (PRWEB) September 29, 2012
A new eBook, The Inbound Marketing Roadmap to Success, is now available from Power Marketing International, an online marketing and web design firm located near Reading, PA, Berks County. The eBook is offered free of charge to marketers and business owners to help them better understand inbound marketing and craft a results-oriented inbound marketing strategy. The inbound marketing eBook can be downloaded free of charge on PMI's website.
"We've found that many clients don't have a clear understanding of inbound marketing at the outset", said Alan Robezzoli, President. "This new eBook explains inbound marketing and provides a clear road map of the key steps needed to succeed in driving customers to your website by producing content customers value."
Inbound marketing is based on earning the attention of prospects by producing valuable content, and by making a business easy to find online via social media, blogs, video, ebooks, whitepapers, SEO, social media marketing, and other types of online marketing, according to PMI. PMI champions inbound marketing as an effective strategy if properly executed, and has been certified by HubSpot, a recognized thought leader in the field of inbound marketing.
About Power Marketing International, LLC
Power Marketing International is an Internet marketing & web design firm located near Reading, PA, serving Berks County, Lancaster, Philadelphia, Allentown, Harrisburg, York, PA and points in between. PMI specializes in keyword-driven web design, web marketing, and social media marketing services for small and mid-sized companies. They offer a free, no-obligation initial consultation to qualified customers. Find them at http://www.PowerMarketingInternational.com
About HubSpot
HubSpot, Inc. offers an all-in-one website design and marketing software platform that has helped more than 5,000 companies in 34 countries increase the number of visitors to their websites and convert more of those visitors to leads and customers. HubSpot, Inc. was founded in 2006 and is based in Cambridge, Massachusetts. Find them at http://www.HubSpot.com